Strawberry Coffee Jelly
by Editorial Staff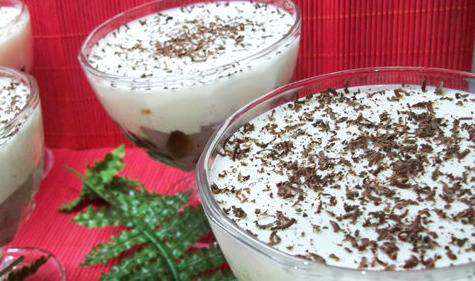 It has been a long time since I did something sweet, everything somehow had no time. And today I was in the supermarket and saw strawberries on sale. I was surprised because her season is long over! But still, I decided to buy it and make a dessert with fresh strawberries. Still better than using frozen fruit.
Ingredients
Strawberries – 300 grams
Milk – 400 ml
Coffee – 1 tablespoon
Sugar – 1 tablespoon
Gelatin – 45 grams
Sour cream – 500 ml
Chocolate – for decoration
Directions
For this dessert, you need to prepare 3 types of jelly, which will be combined together. Start making your strawberry jelly first. To do this, pour milk into a blender bowl and add sugar.
Add strawberries and gelatin to the milk, diluted with warm water, and kneaded until completely dissolved.

Whisk everything.
Pour strawberry jelly into a mold and refrigerate.
Now make your coffee jelly. Pour water into a saucepan, add coffee, sugar and brew coffee. I used brewed coffee, you can use instant coffee or even make it in a coffee machine, if available.
Let the finished coffee cool slightly and pour in the diluted gelatin, then stir.
Pour the coffee jelly into a separate mold and refrigerate.
Remove the frozen strawberry and coffee jelly from the refrigerator and cut it into pieces.
Place strawberry and coffee jelly evenly in the bowls.

Now make sour cream jelly. Pour sour cream into a blender bowl, add sugar, diluted gelatin, and whisk everything.
Pour sour cream over strawberry-coffee jelly, garnish with grated chocolate and send to the refrigerator to freeze.
Enjoy your meal!
Also Like
Comments for "Strawberry Coffee Jelly"