Milk Jelly with Strawberries
by Editorial Staff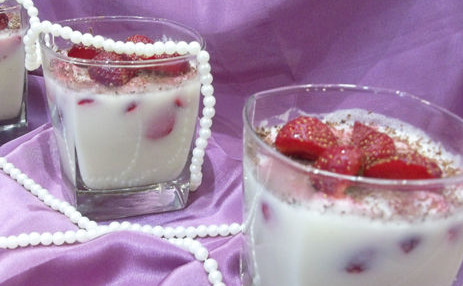 Milk jelly, with ice cream and fresh strawberries, similar in tenderness to an airy soufflé – a delicious milk dessert prepared by yourself without much hassle.
Ingredients
Milk – 500 ml
Ice cream sundae – 100 g
Strawberry – 150 g
Gelatin – 15 g
Vanilla sugar – 10 g
Black chocolate – for decoration
How to make strawberry milk jelly:
Directions
Wash the strawberries well, remove the tails, cut them into four parts, and put them in the molds. If the strawberries are small, cut them in half; if they are large, cut them into three or more pieces.

If you have purchased milk, boil it and let it cool completely. Then pour the milk into a blender bowl, add ice cream and vanilla sugar.
Beat the milk mass with a blender.
Now dilute the gelatin with warm water and stir until completely dissolved.
And pour the gelatin into the milk mass. I, as always, use a sieve to avoid any undissolved gelatin lumps.
Pour the milk mass into tins on top of the strawberries and send the milk jelly with the strawberries to freeze in the refrigerator.

When the jelly has solidified, remove it from the refrigerator and garnish the milk jelly with strawberries on top with grated chocolate. Chocolate can be substituted with coconut or crushed nuts. This is already a matter of taste.
Enjoy your meal!
Also Like
Comments for "Milk Jelly with Strawberries"