Milk Berry Jelly
by Editorial Staff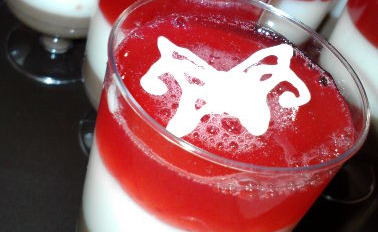 A simple and tasty dessert that will please both children and adults – puff milk-berry jelly.
Cook: 2 hour
Servings: 6
Ingredients
Boiled water – 3 cups
Granulated gelatin – 3 tbsp (with a slide)
Citric acid – 1 tablespoon
Sour cream 25% fat – 500 grams
Cocoa – 1 teaspoon
Berry juice – 1 glass
Sugar – 3 cups
(A measuring 250-gram glass was taken as a basis)
How to make milky berry jelly puff:
Directions
First, make the base. To do this, we need to pour gelatin with pre-boiled chilled water and leave it to swell for 30 minutes.
Then take 3 medium containers, pour 1 glass of sugar into each container. In the first container, we add 250 grams of sour cream and 1 teaspoon of cocoa to the sugar, in the second we put 250 grams of sour cream, in the third, we pour 1 glass of berry juice. Then mix until sugar is completely dissolved.
Back to our base. Bring the swollen gelatin to a boil and remove from heat, add citric acid. Then we divide the base into 3 equal parts and add to each container.
We take molds or cups. we distribute the first layer (chocolate) in equal amounts into our molds, put them in the refrigerator for 15-20 minutes.
Then the second layer is sour cream, we also pour it in equal quantities into molds, and again into the refrigerator.
We do the same with the third layer.
Ready-made milk-berry puff jelly can be decorated with berries, mint, or you can make butterflies from icing, as in the photo.
Bon Appetit!!!
Also Like
Comments for "Milk Berry Jelly"