Jelly Cake with Berries
by Editorial Staff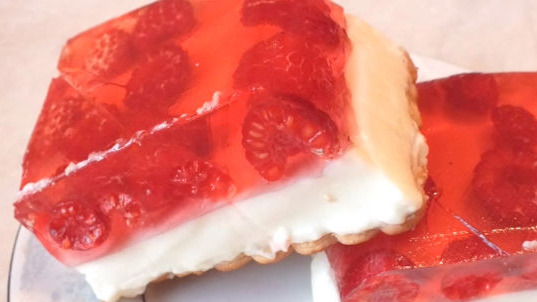 Delicious, airy dessert with berries – a delicate and bright jelly cake without baking.
Ingredients
Fresh berries (raspberries) – 1 large glass
Yogurt – 500 ml
Cookies – 1 pack
Jelly "Orange" – 1 sachet
Jelly "Wild berries" – 2 sachets
Gelatin – 1 tablespoon.
How to make a jelly cake without baking:
Directions
To boil water. Pour jelly into a glass of boiled water and mix well with a spoon until completely dissolved (according to the instructions on the package).
Cover the form with cellophane (cling film). Pour the jelly into a mold and refrigerate to solidify.
Pour the second pack of jelly into a glass with boiled hot water. Mix well.
Pour gelatin into another glass and add 2 tablespoons of cold boiled water. Stir and leave to swell for 40 minutes.
Place the raspberries on top of the first solidified layer of jelly.
Fill with another layer of jelly. Leave the jelly in the refrigerator until it solidifies.
Dissolve the 3rd packet of jelly in a glass of boiled hot water.
Pour the last layer of jelly on top. Leave to set in the refrigerator.
When the gelatin swells, add 2-3 tablespoons of boiling water. Set aside.
Pour the yogurt into a bowl. Pour gelatin into the yogurt. Mix.
Pour yogurt with gelatin on top of the frozen jelly. Put in the refrigerator to solidify.
Place the cookies on top. Leave it to soak.
Turn the jelly into a plate and carefully remove the cellophane. The jelly cake without baking is ready.
Enjoy your meal!
Also Like
Comments for "Jelly Cake with Berries"