Fruit Jelly Cake
by Editorial Staff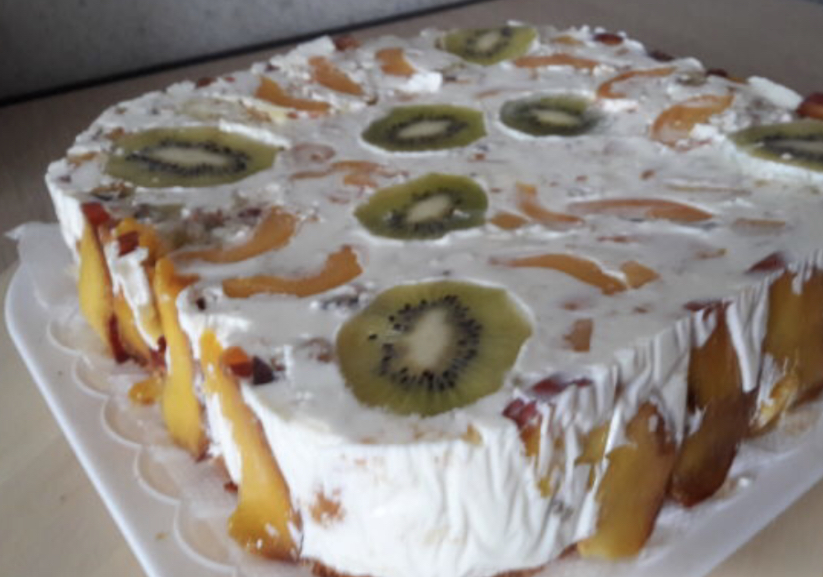 Light sponge cake with fruit and sour cream-jelly cream.
Ingredients
For a biscuit:
Eggs – 5 pcs.
Powdered sugar (or sugar) – 1 glass
Flour – 1 glass (slightly less)
Baking powder – 1 teaspoon
For the cream:
Sour cream – 500 g
Sugar – 1 glass
Gelatin – 1 sachet
Water – 1 glass
Besides:
Fruit (I have peaches, apricots, and kiwi) – to taste
Directions
Break the eggs into a bowl (bowl) and add salt. Beat eggs with a mixer first at low speed, and then increase the mixer speed. Gradually add icing sugar or sugar (1 cup).
Mix flour with baking powder. Then gradually stir in the sifted flour. Stir gently to avoid damaging air bubbles.
Line a baking dish with parchment paper and pour the dough into the baking dish. Send to the oven preheated to 180 degrees and bake the biscuit until "dry match".

After 25-30 minutes, the biscuit is ready. Cool it down and remove it from the mold.
Cut the biscuit lengthwise into 2 parts. Cut one part into cubes.
Pour gelatin with cold water and leave to swell, then put on low heat and bring to a boil, but do not boil.
Line the sides of the detachable form with parchment from the inside. Cut some of the fruit into large pieces. Line the bottom and sides with fruit. Cut the remaining fruit into cubes.
Beat the sour cream with sugar and pour gelatin there. Mix the chopped sponge cake with the rest of the fruit.
Spread half of the sponge cake with fruit in an even layer.
Pour half of the sour cream and smooth. Send to the refrigerator for 30 minutes.
Then take it out of the refrigerator. Put the layer of biscuit with fruit again and pour over the fruit-jelly cake with the remaining sour cream.

Place a biscuit on top.
Remove the sponge fruit jelly cake from the mold.
Cover the fruit jelly cake with a plate and turn it over.

Sponge cake with fruit and sour cream jelly cream is ready!
Enjoy your meal!
Also Like
Comments for "Fruit Jelly Cake"