Milk Orange Jelly
by Editorial Staff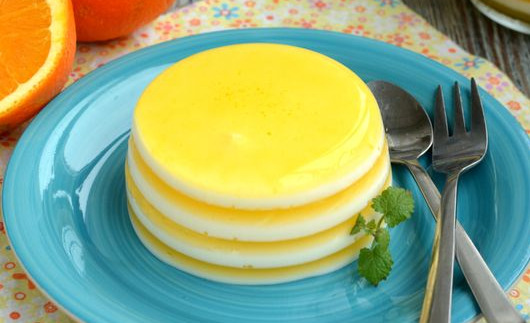 Homemade milk and orange juice jelly is a great alternative to store-bought desserts. If you have the time, you can make such a bright flaky jelly. It is original and beautiful.
Cook: 3 hours 30 minutes
Servings: 4
Ingredients
Milk – 500 ml
Orange – 2 pcs. (700 g)
Sugar – 200 g
Gelatin – 20 g
Vanilla sugar – 10 g
Drinking water – 450 ml
Directions
Pour gelatin with 100 ml of drinking warm water and leave to swell for 7-10 minutes.
Remove the zest from one orange with a regular grater with fine holes or special tools.
Cut both oranges in half and prick the flesh with a fork – this will make it much easier to squeeze the juice. Squeeze out the juice and strain it. Two large oranges made 300 ml of juice.

Cut the peel of one orange (from which the zest has not been removed) into large pieces.
Pour 350 ml of drinking water over the orange peel, place on the stove, and boil. Simmer for 10 minutes over low heat.
Pour the milk into a saucepan, add 100 g of sugar and vanilla sugar, put on fire, and bring to a boil.
Add half of the swollen gelatin to hot milk, mix until the gelatinous mass is completely dissolved. Cool it down.
Strain the orange broth through a sieve, separating the liquid from the crusts.
Pour the orange broth back into the saucepan, add 100 g of sugar, strained orange juice, and the remaining gelatin.
Heat over a fire until the gelatin dissolves. Add orange zest. Enough 1 teaspoon of zest, as otherwise, it will taste bitter.
Cool both mixtures – orange and milk. Prepare portioned forms, place them on a plank for easier placing and taking out of the refrigerator.
Pour 4-5 tablespoons into molds. tablespoons of orange mixture and put the molds in the refrigerator for 15 minutes, until they solidify.

When the orange layer hardens, pour 4-5 tbsp of the milk mixture and put the molds back in the refrigerator.
Follow this procedure by completely filling the molds and allowing each layer to harden. Then leave the molds in the refrigerator for another 3 hours until the jelly hardens completely.
To remove the jelly from the mold, dip it in hot water for 20 seconds and then flip it onto a plate. The milky orange jelly is ready to serve.
Enjoy your meal!
Also Like
Comments for "Milk Orange Jelly"