Milk Orange Jelly
by Editorial Staff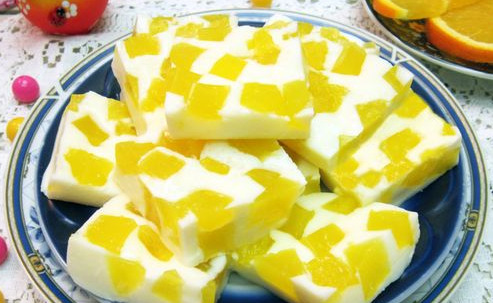 This light and tender milky orange jelly are not only tasty but also healthy. Jelly is prepared from natural products – milk and freshly squeezed orange juice. Such a bright and tasty dessert will delight little sweet tooths, as well as adult connoisseurs of healthy food.
Ingredients
Oranges – 2 pcs. (500 g)
Milk – 300 ml
Condensed milk – 4 tbsp
Egg – 1 pc.
Gelatin – 2 tbsp (25-30 g)
Sugar – 1-3 tbsp (or to taste)
Vanillin – 1 pinch
Directions
Squeeze juice from oranges. I got 230 ml from two oranges.
Add half a tablespoon of gelatin to the orange juice and leave for 15 minutes to swell. Then we heat the juice with gelatin, without boiling, and stir until the gelatin is completely dissolved.

Pour orange juice with gelatin dissolved in it into any shape with a layer about 1-2 cm thick and put in the refrigerator to solidify. In order to make it easier to remove the jelly from the container later, you can pre-cover it with cling film. Citrus jelly can be prepared in one large container, or it can be poured into silicone molds or glasses.
Divide the milk into two parts. Add the remaining gelatin (1.5 tablespoons) to one part of milk (150 ml) and leave for 15-20 minutes to swell.

When the gelatin swells, heat the milk (do not boil) and stir until the gelatin dissolves.
Add the egg, condensed milk, and vanillin to the remaining milk (150 ml).
Beat milk with an egg, condensed milk, and vanilla with a mixer.
Then we put on a small fire and, stirring constantly, bring to a boil. As soon as the milk mixture begins to boil, immediately remove it from the heat.
Combine both parts of the milk and mix well (you can use a mixer). Add sugar to taste, I added 2 tbsp. Then leave to cool to room temperature.
By this time, the orange jelly should have solidified. We remove it from the mold and cut it into small cubes.
Pour the milk mixture into a suitable container or molds, into which we add cubes of orange jelly. We put milk jelly with pieces of orange jelly in the refrigerator for several hours to solidify.
Enjoy your meal!
Also Like
Comments for "Milk Orange Jelly"