Jelly "Bird's Milk"
by Editorial Staff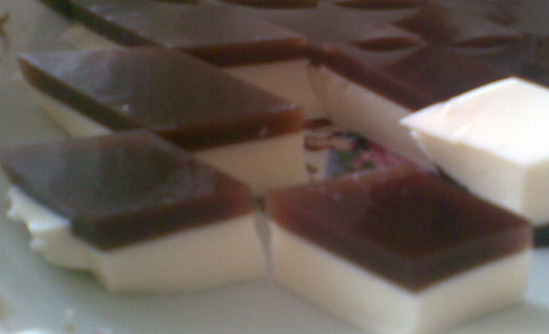 My daughter cannot be taken away from such a yummy. ))) So, we prepare jelly "Bird's milk", the recipe is very simple.)
Ingredients
2 bags of gelatin, 25 g each
1-liter sour cream
2.5 cups sugar
4 tbsp cocoa
Directions
We take two bags of gelatin, soak them in one glass of water.
1 liter of sour cream, 1.5 cups of sugar, and most of the gelatin, stirring, heat over the fire, and pour the first layer of "Bird's milk" jelly into plates.
Top layer: 1 glass of water, 4 tablespoon. tablespoons of cocoa, 1 glass of sugar, and the remaining gelatin, put on fire, heat. Then pour the second layer of "Bird's milk" jelly (chilled), when the first layer has completely solidified.
Enjoy your meal!
Also Like
Comments for "Jelly "Bird's Milk""