Milk Pomegranate Jelly
by Editorial Staff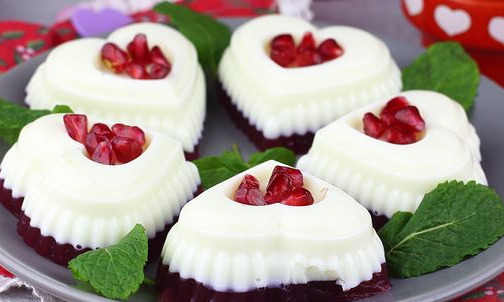 What to cook for Valentine's Day? Prepare an incredibly tender and truly festive milk-pomegranate jelly. The dessert is delicious and low in calories. The design in the form of hearts will delight the eye. The milky layer with a neutral taste is in perfect harmony with the sweet and sour pomegranate layer. Try it!
Cook: 1 hour 30 minutes
Servings: 6
Ingredients
Pomegranate – 800 g (2 pcs.)
Milk with fat content 2.5% – 200 ml
Gelatin – 30 g
Water – 60 ml
Fresh mint for decoration (optional) – a few leaves
Directions
The first step is to extract the juice from the pomegranate seeds. There are several ways. I will share one of them. Wash the pomegranate well and pat dry with a napkin. Make a circular cut at the top. Raise the edges of the cap a little. Now cut from top to bottom along the white partitions.
Remove the cap and carefully unfold the pomegranate.
Take a deep bowl. Turn the pomegranate over and knock until all the seeds fall into the bowl.
Remove the white partitions. Leave a few grains for dessert.
Transfer the beans to a ziplock bag and gently move the rolling pin to let all the beans release their juice.
Strain the resulting juice. From one pomegranate weighing 400 g, I got 150 ml of delicious juice. Accordingly, 300 ml was obtained from two identical pomegranates. I used 250 ml to make dessert, and 50 ml of juice went to tasting, of course, to me.
Pour gelatin into a deep plate. Pour in boiled water at room temperature. Leave the gelatin to swell for 10-15 minutes.
Pour the milk into a saucepan. Add half of the swollen gelatin. Send to moderate heat and heat, stirring constantly, until the gelatinous mass is completely dissolved. Milk temperature should not exceed 60 degrees. Cool the milk mixture to room temperature.
To form the dessert, I used silicone molds-hearts. Pour the cooled milk mass halfway into the molds. Refrigerate for 20-25 minutes. The milk mass should harden.
Take a pomegranate layer. Pour the juice into a saucepan. Add the remaining swollen gelatin. Send over moderate heat and heat until the gelatinous mass is completely dissolved. Cool to room temperature.
When the milk mass hardens, pour the pomegranate juice with gelatin on top. Send to the refrigerator for 40-60 minutes, until completely solidified.
Milk pomegranate jelly is ready. Remove it from the molds and garnish it with the remaining pomegranate seeds. I added more mint leaves.
Enjoy your meal!
Also Like
Comments for "Milk Pomegranate Jelly"