Curd Milk Jelly with Persimmon
by Editorial Staff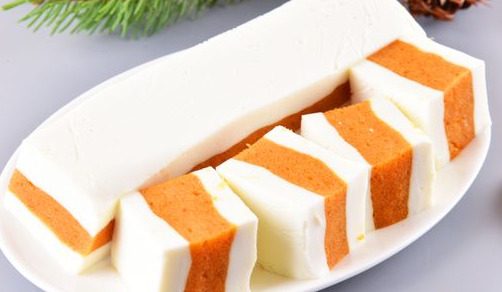 Curd milk jelly with persimmon is a contrasting dessert for lovers of sweets without baking. Delicate jelly made from cottage cheese and milk, and inside there is a layer of persimmon. The dessert looks very appetizing, and the taste is even better!
Servings: 8
Ingredients
Cottage cheese – 200 g
Persimmon – 200 g
Milk with fat content 2.5% – 100 ml
Sugar – 3 tbsp
Gelatin – 2 tbsp
Vanillin – on the tip of a knife
Water – 100 ml
Directions
Soak gelatin in 100 ml of water and leave for 5-10 minutes.
Boil the milk.
Add granulated sugar and vanillin to the curd.
Pour hot milk there. Beat with a hand blender.
Peel the persimmon and remove the seeds.
Kill the persimmons with a hand blender and puree.

Heat the gelatin in a water bath until the grains are completely dissolved.
Pour two parts of gelatin into the curd-milk mass. Add the remaining gelatin to the persimmon puree.
Mix.

Line the bottom of the container with cling film. Pour half of the curd mass into the bottom. Refrigerate for 15 minutes.
After the surface has set, layout the persimmon puree. Refrigerate for 15 minutes.
Pour the remaining curd mass into the last layer. Smooth the surface of the dessert and put the mold in the refrigerator for 3 hours.
Remove the dessert from the mold and free it from the cling film.
Enjoy your meal!
Also Like
Comments for "Curd Milk Jelly with Persimmon"