Curd Jelly with Rice
by Editorial Staff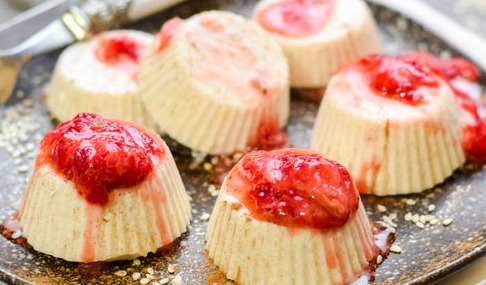 Curd jelly with rice is a great option for a delicious dessert that will appeal to both adults and children. The tenderness of this jelly is literally in every spoon. When serving, you can add any jam you like, such as strawberry or raspberry jam.
Servings: 3
Ingredients
Cottage cheese 9% fat – 150 g
Rice – 50 g
Milk with a fat content of 3.2% – 5 tbsp
Sugar – 2 tbsp
Gelatin – 1 tbsp
Cinnamon (ground) – 0.5 teaspoon
Jam for serving (optional) – to taste
Directions
Transfer the rice to a saucepan, pour 100 ml of water, cook until tender (12-15 minutes after boiling water).
Transfer the gelatin to a bowl, pour 50 ml of water. Leave the gelatin for 10 minutes.
Put cottage cheese into a bowl, add milk immediately.
Add sugar and ground cinnamon.
Using an immersion blender, mix the cottage cheese and milk until smooth.
Then add boiled rice to a bowl. Rice does not need to be chopped.
Melt gelatin in the microwave at minimum power, do not bring to a boil. Pour the melted gelatin into a bowl with all the other ingredients.
Mix everything well with a spoon.
Fill silicone molds with the resulting mass. Rearrange the molds in the refrigerator for 1.5-2 hours.
Enjoy your meal!
Also Like
Comments for "Curd Jelly with Rice"