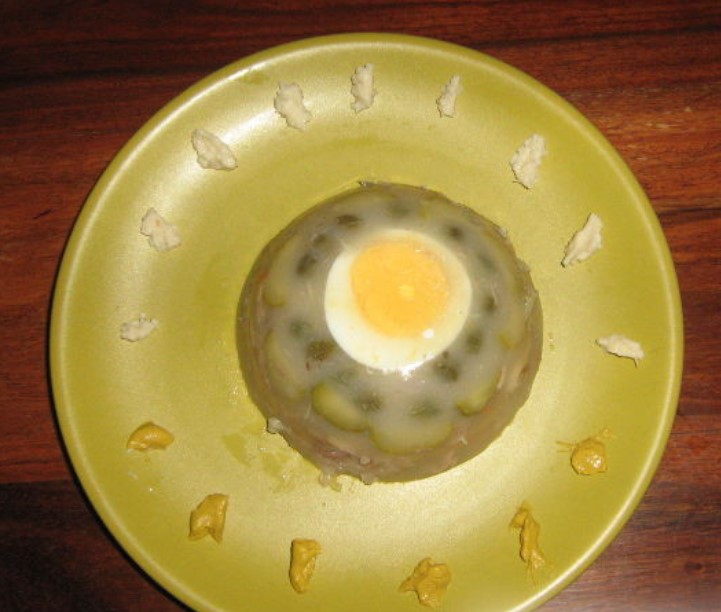 I love jellied meat, and always with the tongue !!! Delicious !!!
Ingredients
Pork tail – 1 pc.
Pork leg – 1 pc.
Chicken leg – 1 pc.
Pork tongue – 1 pc.
Beef bone with meat – 1 pc.
Water – 4 l
Peppercorns – 10 pcs.
Carnation – 3 pcs.
Carrots – 2 pcs.
Onions – 1 pc.
Celery (petiole) – 1 pc.
Salt
For decoration (optional):
Boiled eggs
Canned cucumbers
Capers
Directions
Soak meat and bones in cold water for a couple of hours. We drain the water, rinse thoroughly and put the pan with fresh water and all the ingredients on low heat. Of course, we remove the foam and fat floating on the surface. After 4 hours, remove the lid, add onions and carrots, salt, add spices. Cook for a couple more hours, about 1.5 liters of broth should remain.
We disassemble the meat with handles. Remove the skin from the tongue.

Cut all the meat into small pieces, add chopped garlic and herbs if desired
Put decorations in portioned bowls.
We spread the meat.
Fill with strained broth. This is for guests.
This is for work, treat colleagues.
Cover with foil and put the jellied meat in the refrigerator overnight.

To put a portion of jellied meat on a plate, just hold the bottom of the mold in hot water for a few seconds.
Bon Appetit!
Also Like
Comments for "Jelly"