Festive Jellied
by Editorial Staff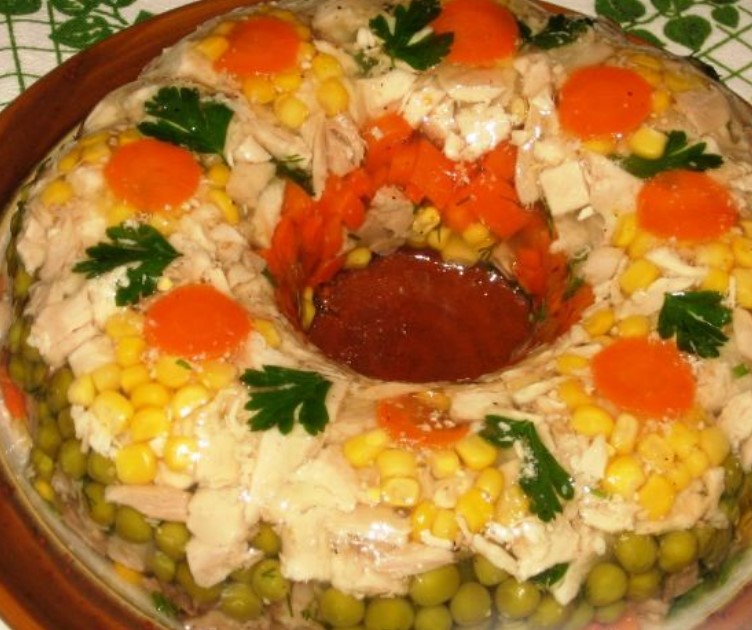 Festive aspic is not jelly, but a snack in jelly, or even a salad in jelly. Vegetables and meat are laid out in layers or, if skill allows, patterns can be laid out of them. Chicken and pork tongue are used for jellied meat. You can take veal, ham. You can make aspic from fish and crab sticks.
Ingredients
Boiled chicken leg – 250 g
Boiled pork tongue – 250 g
Canned corn – 0.5 cans
Canned green peas – 0.5 cans
Boiled quail eggs – 12 pcs.
Boiled carrots – 2 pcs. (250 g)
Parsley to taste
Chicken broth – 1 l
Gelatin – 1 sachet (20 g)
Directions
Cut boiled chicken meat, boiled tongue and 1.5 boiled carrots into 1 cm cubes. Cut the remaining carrots into thin slices. Leave a few sprigs of parsley, and finely chop the rest. Dissolve the gelatin according to the instructions on the package and add to the broth. Salt the broth, pepper to taste and cool. The jellied cake comes out beautiful in cake tins with wavy edges or ring tins. Pour a little broth on the bottom of the prepared form and refrigerate for 20 minutes. He will freeze during this time.

Now we start filling out the form. At the bottom we will try to lay out a pattern that will become the main decoration of the snack. These can be carrot circles and flowers from it, halves of eggs, green parsley leaves. On top we lay out a vegetable contrasting in color so that it sets off the pattern well. I shaded my carrot circles with corn. Egg circles can be shaded with carrots. We will make the next layer meat – we spread the chicken meat, and on it – quail eggs. If you are laying out chicken eggs, it is best to lay them in halves. Fill with broth and put in the refrigerator again for 30 minutes to freeze.
Sprinkle some herbs, put a layer of peas and a diced tongue on top. Let's make the bottom fun: mix the remaining vegetables and put them in a mold. Pour the broth again and put the chicken and tongue aspic in the refrigerator. For good solidification, the filler will take 3-4 hours.
Then put the form in a bowl of hot water for a few seconds, cover with a plate and turn over. There is no need to decorate the festive aspic – it is already bright and beautiful enough. But you can serve grated white horseradish with the jellied one.
Bon Appetit!
Also Like
Comments for "Festive Jellied"