Festive Pilaf
by Editorial Staff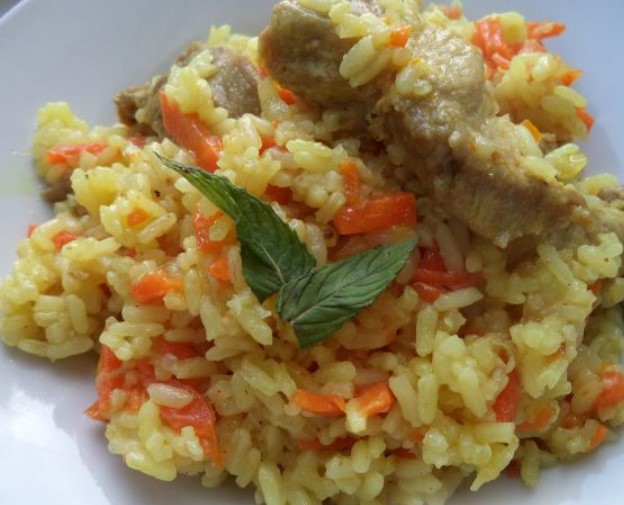 We decided to arrange a belly party for ourselves and I recommend it to you. This is a delicious pilaf recipe. Honestly:)
Cook: 1 hour 30 mins
Serving: 8
Ingredients
The products for the recipe are in front of you.
Wash and dry the meat.
Cut the meat into portions (1.5-2 cm each).

Peel the onion, wash, cut into thin rings or half rings.
Peel the carrots, wash, cut into thin strips.
Put the cauldron on the fire. Heat up. Pour in vegetable oil. Put onion in hot oil. Fry over medium heat for 3-4 minutes, until golden brown.
Lay out the meat. Mix. Salt. Mix. Simmer over high heat, stirring occasionally, for 4-5 minutes. Prepare all the spices. Then put on the meat, stir. Close the cauldron with a lid, reduce heat to a minimum. Simmer for 15 minutes, stirring occasionally.
Spread the carrots evenly. Gently and slowly pour in 1 cup of cold water (do not break the carrot layer). Boil. Close the cauldron with a lid, simmer for 15 minutes.
Rinse the rice in cold water 5-6 times. Boil the kettle.
Spread the rice on top of the carrots in an even layer.
Pour boiling water into the cauldron so that the water is 2 centimeters higher than the rice. Lay out the garlic cloves. To cover with a lid. Cook over the lowest heat until the rice is cooked, about 30 minutes. Do not open the cover.
Stir pilaf, remove from heat. Leave covered for 20 minutes.

The festive pilaf is ready. You can serve.
Enjoy your meal!
Also Like
Comments for "Festive Pilaf"