Pilaf in Uzbek
by Editorial Staff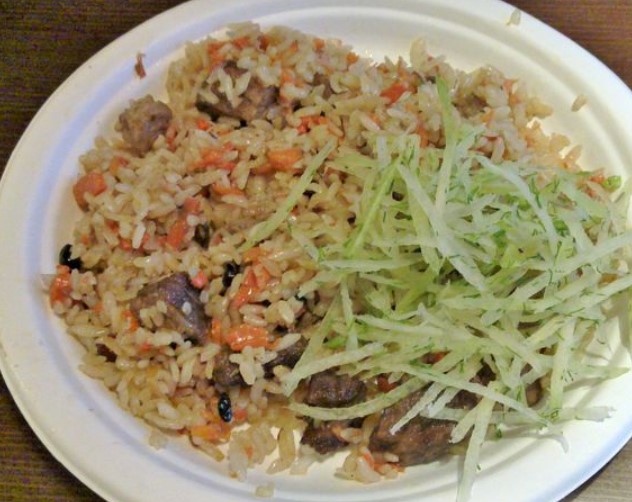 Today I swung at a real Uzbek pilaf. There was no fat tail fat, I replaced it with vegetable oil. In general, I tried to comply. Do not judge strictly. Well, it turned out very tasty pilaf!
Cook: 2 hour
Serving: 8
Ingredients
Lamb or beef – 1 kg
Rice – 1 kg
Bulb onions – 3-5 pcs.
Carrots – 1-2 pcs.
Garlic – 1 head
Vegetable oil – 100 g
Zira – 1 pinch
Saffron – on the tip of a knife
Barberry – 10-15 pcs.
Hot red pepper – 1 pinch
Salt to taste
Directions
Wash and dry the meat. Cut into slices.
Peel the onion, wash and cut into half rings.
Peel, wash and cut the carrots into strips.
Preheat the cauldron. Pour in vegetable oil. Put the meat in hot oil. Fry the meat, stirring occasionally, until golden brown, 10-15 minutes over medium heat.

Then add onions and carrots. Simmer everything, stirring occasionally, for about 10 minutes.
Boil the kettle. Pour boiling water over everything, 1-2 cm above the meat. Salt (it may be slightly salty, the rice will then take away excess salt), pepper.Add the head of garlic and spices. Bring to a boil, reduce heat to very low. No more stirring. Cook zirvak until the liquid boils away (30-40 minutes)
Rinse the rice well, in several waters, until the water becomes clear.
Put the washed rice on top of the zirvak and smooth (with a slotted spoon). Pour cold water, 1-2 cm above the rice. Add heat, bring to a boil. Cook for about 20 minutes, the liquid will evaporate.

When the liquid has almost evaporated, cover the pilaf with a lid, reduce the heat to very low. Cook pilaf for another 25-30 minutes.
Pilaf in Uzbek is ready. Stir it gently and place it on a plate in a slide. I served pilaf with green radish salad.
Enjoy your meal!
Also Like
Comments for "Pilaf in Uzbek"