Green Uzbek Pilaf Bakhsh
by Editorial Staff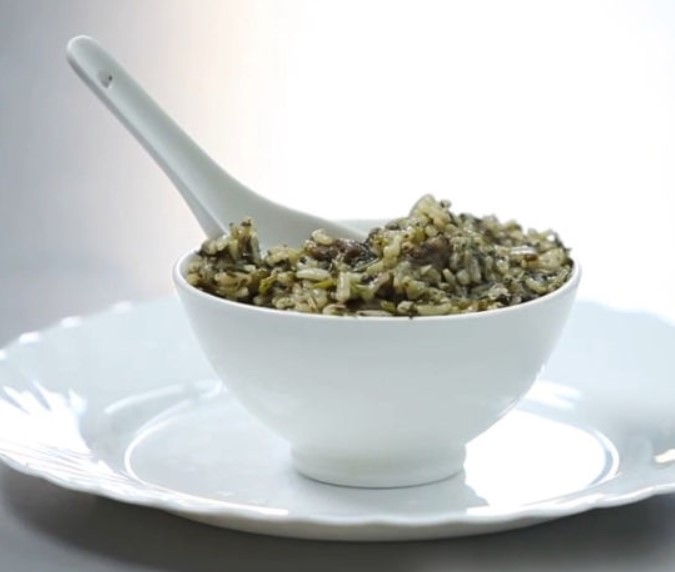 An ancient oriental dish is bakhsh. Bakhsh is green pilaf. In addition to the unusual color and combination of products, the peculiarity of this dish is that all the ingredients are cut very finely. Small cuts are a specificity of oriental cuisine, in contrast to European cuisine. Uzbek pilaf bakhsh is a completely unusual dish for lovers of the usual pilaf. Worth a try.
Ingredients
Beef – 250 g
Rice – 250 g
Cilantro – 250 g
Green onions – 1 bunch
Parsley greens – 1 bunch
Bulb onions – 1 pc.
Chicken fat – 50 g
Olive oil – 30 ml
Salt – pl to taste
Pepper to taste
Water – 500 ml
Directions
Chop the onions very finely.
Cut the beef into small cubes with a side of one centimeter. Grind chicken fat.

Preheat a frying pan, pour in a little olive oil. Put the meat and fat in the pan. Attention! We only need to lightly fry the meat so that it changes color. It is impossible to stew deeply: dry the meat – the pilaf will come out dry.
Has the meat brightened? Add onions to it, mix. We reduce the fire. Do not cover with a lid
Finely chop cilantro, parsley.
Chop green onions, mix with the rest of the herbs.
Put the stewed meat with onions in a saucepan with a thick bottom or cauldron.
Add greens to it, mix.
We wash the rice. We send the rice to the pan and mix again. It is very convenient to calculate this pilaf by the number of products. You need to take the same amount of rice by weight as meat weighs, and the same amount of cilantro. Greens are light, so don't be surprised that 250-300 grams of cilantro is a huge heap. Whoever cannot cut it quickly, it is better to do it in advance.
Pour two glasses of water into a saucepan, no more.
Put salt, pepper, mix bakhsh once again.
We put on fire, cover and leave the green Uzbek pilaf for 30-40 minutes.
Our beautiful bakhsh, green Uzbek pilaf, is ready. Look – rice to rice, everything is soaked in juices of meat, onions, herbs

Invite guests – they don't eat bakhsh alone, make green tea – the only drink that goes with pilaf, hand out bathrobes to the guests and imagine yourself in the ancient capital of Central Asia – Bukhara. This evening will be unforgettable for you and your guests.
Bon apppetit!
Also Like
Comments for "Green Uzbek Pilaf Bakhsh"