Samsa in Uzbek
by Editorial Staff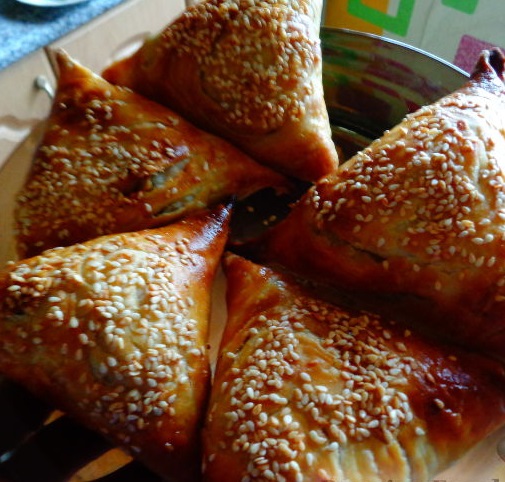 Samsa is Uzbek pies made of puff or plain dough stuffed with meat and onions. Real Uzbek samsa, made from lamb, its recipe is not at all complicated. I cooked Samsa in Uzbek from different meats of beef, pork, and lamb and it always turned out very tasty!
Ingredients
Flour – 4 cups
Water – 1 glass
Salt – 1 teaspoon
For filling:
Lamb or beef – 450 g
White onions – 2 pcs.
Fat tail fat – 100 g
(or 2 tablespoons ghee)
Seasoning for samsa – zira
Black pepper
Salt
Egg (for greasing samsa) – 1 pc.
Ghee (for greasing the dough)
Sesame
Vegetable oil for greasing parchment.
Directions
Dissolve 1 teaspoon in water. salt. Stir continuously, add flour and knead well.
Roll the dough into a ball, put it in a bag, and put it in the refrigerator for 20 minutes.
Meanwhile, cut the onion into cubes. Although I do not like onions, the more it is in the samsa, the tastier !!!
Cut the meat into cubes.
We mix meat and onions.
Add ZIRA, black pepper, and salt.

If you do not have fat tail fat, then take ghee, two tablespoons of butter, and melt it.
Add ghee to the meat and stir.
The oil should solidify.
We take out the dough from the refrigerator. Divide it into 6-8 pieces.
Roll out the dough very thinly.
Lubricate it with ghee.
We roll it up.
We also roll out the next piece and grease it, and put the previous roll in it.
And so with each subsequent one. This will make the dough flaky and juicy.
Here you get such a thick roll.
We put it in a bag – and in the refrigerator for 1.5 hours.
After a while, we take out the dough, cut it into 12-16 pieces.
Roll each piece around the edges so that the middle is tight.
And so all 16 pieces.
We layout the meat.
We make triangles, squeeze well.
Put a sheet of parchment on a baking sheet, grease with oil.
On a baking sheet with parchment, layout our samsa with the seams down.
Lubricate with a beaten egg, you can just yolk.

Sprinkle with sesame seeds, put Uzbek-style samsa in an oven preheated to 180 degrees for 30-40 minutes.
We take out the Uzbek samsa from the oven and cover it with a towel for 5 minutes.
Eat Uzbek samsa hot, but you can also reheat it in the microwave.
Also Like
Comments for "Samsa in Uzbek"