Samsa in Kazakh
by Editorial Staff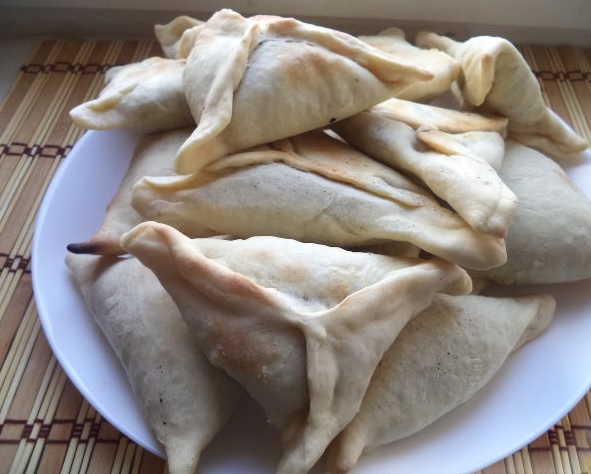 For baking lovers – a recipe for Kazakh cuisine. We have samsa for lunch today.
Ingredients
Flour – 4 cups
Butter – 1 tbsp
Hot water – 2.5 cups
Salt – 1 teaspoon
Light – 500 g
Heart – 200 g
Liver – 175 g
Bulb onions – 3 pcs.
Black pepper – 0.5 teaspoon (to taste)
Salt – 1 teaspoon
Vegetable oil (or fat) – 2 tbsp
Directions
Prepare products according to the Kazakh samsa recipe.
How to cook samsa with liver:
To prepare liver mince, cook the heart, lung, and liver separately. Everything is cooked until soft. Liver and lung – about 20 minutes. Heart – about an hour.
Cut the offal into pieces.
Then pass all these products through a meat grinder.
Peel the onion, wash, chop finely. Preheat a frying pan, add oil. Put the onion in hot oil. Fry over medium heat, stirring occasionally, until golden brown (2-3 minutes).
Season the minced meat with fried onions, black pepper, mix.
Turn on the oven.
Melt the butter.
To prepare the dough, sift the flour, make a depression in it, add softened butter and salt.
Add hot water, stir with a spoon.
Knead the uncooked unleavened dough. Cover with a towel.
Let him "rest" for 20 minutes.
Then cut into pieces, like for pies.
Roll each piece. Put the cooked minced meat in the middle of the rolled flat cake.
Pinch the edges of the triangle. Grease a baking sheet with oil. Place the triangles on a baking sheet.
Place the samsa in the oven on the middle shelf. Bake at 230-240 ° C for 7-10 minutes.

Samsa in Kazakh is ready.
Also Like
Comments for "Samsa in Kazakh"