Samsa in the Oven
by Editorial Staff
Uzbek pies made of unleavened or puff pastry are called Samsa. Despite the hassle of this pastry, Samsa is popular in different cuisines of the world.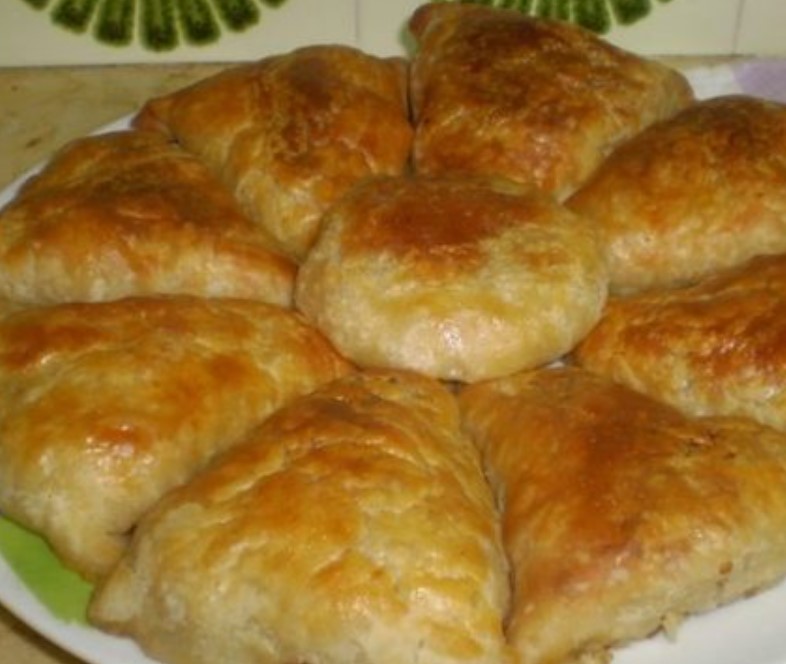 Cook: 2 hour
Servings: 5-8
Ingredients
Flour – 4 Glasses
Water – 1 Glass
Soda – 1 Teaspoon
Beef or Lamb – 400 Grams
Onion – 1 Piece
Egg – 1 Piece
Ghee – 30 Grams
Salt and Spices – To taste
Directions
Knead the dough from flour, water, soda and salt. After kneading it well, we send it in a bag to the refrigerator for one hour.
We take out the dough, divide it into parts (about 8 parts). Roll each piece to a thin state and twist it into a "tube".
Be sure to coat each layer with ghee, after which we spread the twisted layer on the rolled layer – and twist both.
Do this until the end of the cut pieces. Then we wrap the dough in foil and send it to the refrigerator for an hour and a half.
Take the dough out of the refrigerator, cut it into pieces, each of which is rolled out (no more than 10 centimeters in diameter).
It is better not to twist the meat through a meat grinder, but finely chop it. Add onions and spices to it to taste. I took beef, but according to the recipe, lamb is used in samsa.
Put the filling in the middle, cover the dough.

This should be the shape of the samsa.
We spread the samsa on a baking sheet (with stitched seams down), grease the surface of each pie with an egg (preferably yolk). We send the baking sheet to the oven and bake the samsa for about 25 minutes.
Here is such a samsa in the oven at home, we get the result.
Bon appetit!
Also Like
Comments for "Samsa in the Oven"