Layered Samsa
by Editorial Staff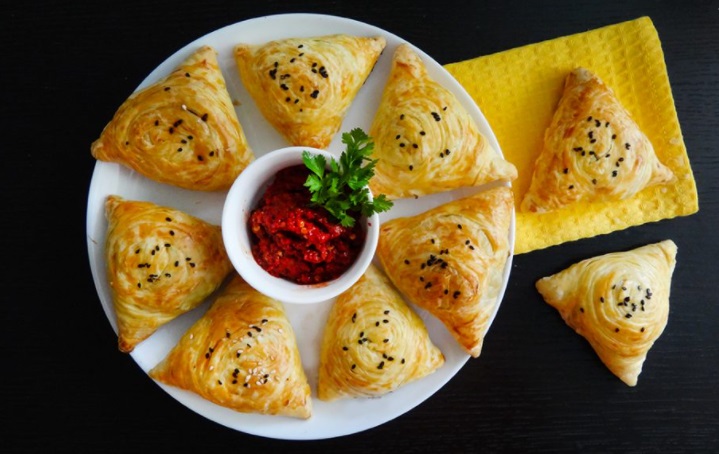 Every person who once lived in Uzbekistan or visited this beautiful country always remembers the dishes of Uzbek cuisine with nostalgia and special warmth. Samsa takes a special place of honor among the huge variety of world-famous dishes. We offer you a recipe for an original, very tasty, and beautifully layered samsa.
Ingredients
Flour – 500 g
Water – 250 ml
Salt – 1 teaspoon (5 g)
Ghee or butter (or margarine) – 100 g
Fatty lamb (pulp) – 500 g
Onions – 500 g
Salt – 1 teaspoon
Ground black pepper – 1 teaspoon
Zira (optional) – 1 teaspoon
Yolk
Sesame (or nigella)
Directions
Prepare foods for flaky lamb samsa.
To prepare puff pastry for samsa, add 5 g of salt to 250 ml of warm water (one glass), stir. Sift a pound of flour into a bowl or on the table, add salted water, knead a simple dough.
This dough can be easily kneaded with your hands or a dough mixer. Roll the dough into a ball, cover with a bowl and rest for 20-30 minutes.
After 20 minutes, roll out the dough into a 0.5 mm thick rectangular layer.
This puff pastry is unique. The thing is that, unlike the classic French dough, in this recipe, the layers are perpendicular to the table. Products made from puff pastry prepared according to this recipe are very beautiful and original.
Brush the rolled dough with 100 grams of melted ghee or butter, or margarine. The most delicious samsa is made from puff pastry cooked in ghee.
Roll the dough, greased with melted butter, into a tight roll.
Divide into 18 equal parts.
Put each piece of dough on a cut and, pressing, shape into a cake.
Put the blanks for samsa on a board, cover with foil and send them to the freezer for half an hour or to the refrigerator for at least two hours.
How to cook minced meat for samsa: cut half a kilogram of onion into cubes.
Cut half a kilogram of fatty lamb pulp into cubes with a side of 0.5 cm (meat for samsa can be cut larger or grind in a meat grinder, as you like).
Add the meat to the onion bowl. Salt the samsa minced meat with a teaspoon of salt and pepper with one or half a teaspoon of ground black pepper. Optionally, you can add a teaspoon of slightly ground cumin (we always have a desire to add cumin, and we add it). Stir the minced meat well, cover, and set aside.

Remove the pieces of dough prepared for samsa from the refrigerator, roll each piece into a thin round layer 1 mm thick. Put the minced meat in the middle of each circle, distribute all the minced meat equally into the circles.
Alternately lift the dough from three sides onto the minced meat, putting the edges of the dough on top of each other, give the samsa a triangular shape, additionally fold the corners and press.
Place the samsa on a baking sheet with the seam down. Brush the samsa with yolk and sprinkle with sesame or nigella if desired.

Bake puffed samsa in a preheated oven at 180-200 degrees for 30 minutes.
Puffed samsa can be served as a hot appetizer or with soup. Remove the finished puffed samsa from the oven, put it on a plate with a slide, and serve with sweet strong tea, broth, or shurpa.
Also Like
Comments for "Layered Samsa"