Samsa with Pumpkin
by Editorial Staff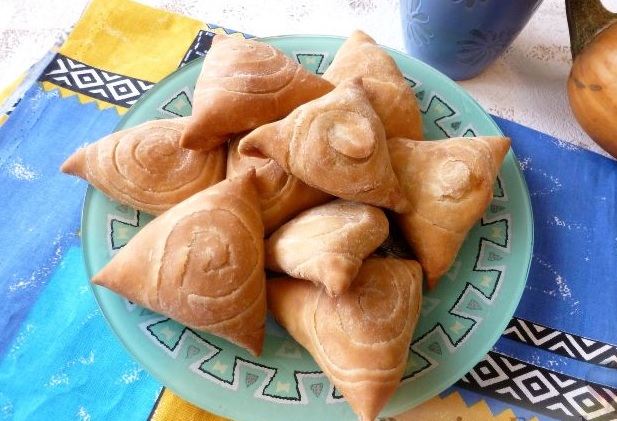 Cooking samsa with pumpkin. The dough turns out to be flaky, crispy, and crumbly. Add butter to the pumpkin filling, it will turn out juicy and aromatic.
Ingredients
Flour – 1.5 cups
Pumpkin – 150 g
Water – 100 ml
Chicken egg – 1 pc.
Bulb onions – 1 pc.
Butter – 60 g
Sugar – 1 teaspoon
Salt to taste
Pepper to taste
Directions
Let's prepare products for samsa with pumpkin.

Sift the flour.
Crack the egg with water, add salt.
Pour an egg with water into the flour and knead the dough for samsa.
The dough turns out to be quite dense, keeps its shape, and does not stick to hands.
Wrap the dough in plastic wrap and send it to the refrigerator to "rest".
Roll out the dough into a layer 2-3 mm thick, trying to give it a rectangular shape.
Lubricate the layer of dough with butter.
Roll tightly into a roll, wrap in foil and refrigerate for 30-40 minutes.
For now, let's prepare the pumpkin filling. Cut the pumpkin into small cubes, finely chop the onion hands. Add sugar, salt, and pepper to taste. Cut the cold butter into small cubes and add to the filling.

Take the dough out of the refrigerator and cut it into cubes 3-4 cm high. Flatten the bag and roll it into a flat cake.
Put the pumpkin filling in the middle and pinch the edges with a triangle.
We spread samsa with a pumpkin on a silicone mat with the seam down.
We bake pies with pumpkin in the oven preheated to 190-200 degrees, 20-30 minutes, until golden brown. Grease hot samsa with pumpkin with butter.
Crispy samsa with juicy pumpkin filling is ready! Bon Appetit!
Also Like
Comments for "Samsa with Pumpkin"