Samsa with Chicken
by Editorial Staff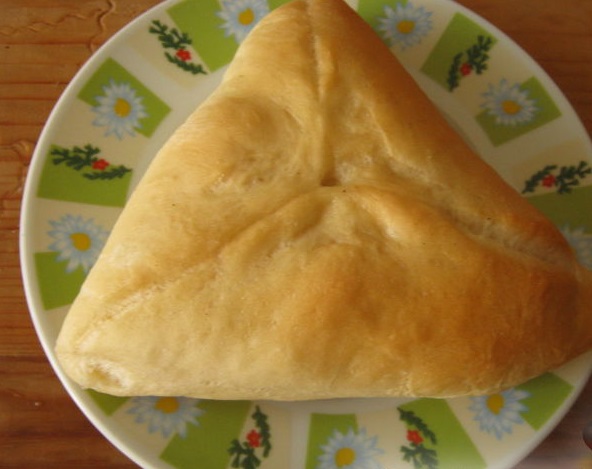 One of the favorite dishes of Central Asian cuisine is samsa. This is of course an adapted recipe. Real samsa cannot be compared to anything.
Ingredients
Butter – 120 g
Ice water – 250 ml
Active dry yeast – 1 pack (11 g)
Flour – 4-5 cups
Salt
Chicken meat with fat (thighs) – 300 g
Bulb onions – 4 pcs.
Salt
Ground black pepper
Zira
Directions
Finely chop the chicken meat.
Onions in an amount almost equal to the amount of meat, also finely chop salt and shake hands to let the juice go.
We will mix meat and onions just before modeling samsa so that the minced meat does not stand for a long time. Add cumin and black pepper to the minced meat.
Grate cold and hard butter, sprinkle with flour. Let us cool the water, you can add ice, the water should not just be cold, but ice.
Pour salt, dry yeast into the grated butter, pour in ice water, and quickly knead the dough. The dough should be of medium density. After kneading, put the dough in the refrigerator for half an hour.
We take the dough out of the refrigerator, knead it, cut it into sausages, and cut them into small pieces.
Roll out the dough into thin, saucer-sized circles. We spread a slide of minced meat on the dough and wrap it, overlapping the filling with the edges of the dough on three sides. Turn the workpiece over with the folds down.
Preheat the oven to medium heat, 180 degrees. Grease a baking sheet with oil and put the samsa on it. Lubricate it with a loose egg and put the oven on.
Samsa is baked for 30-40 minutes. The filling is very tender, the chicken meat bakes well and becomes very soft, and the dough is rosy and crispy!
Also Like
Comments for "Samsa with Chicken"