Samsa with Chicken Breast
by Editorial Staff
Use the recipe on how to make samsa with chicken breast to pamper yourself and your loved ones with delicious oriental pastries. Hearty, appetizing and ruddy puffs will appeal to everyone.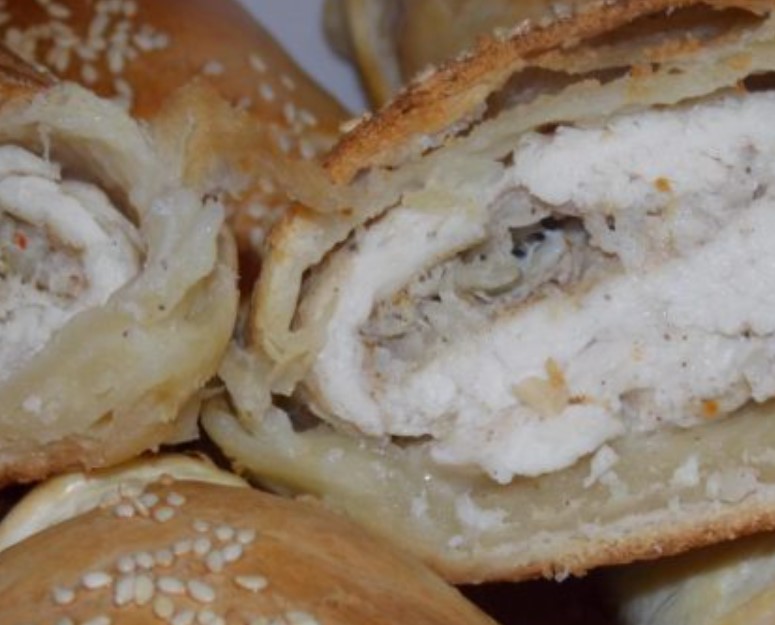 Cook: 1 hour 40 mins
Servings: 16
Ingredients
Chicken Breast – 8 Pieces
Salt and Spices – To taste
Onion – 5 Pieces
Puff pastry – 900 Grams
Egg – 1 Piece
Sesame – To taste
Directions
Thoroughly wash the chicken breasts, then cut off the bone and cut each into 2 pieces.
Wrap each piece in a plastic bag and beat on each side.

I peel and wash the onions, then cut them into pieces.
I pass onions through a meat grinder, we need a liquid gruel.
I add ground black pepper to the onion, you can also any other spices to taste, mix.
Spread the broken breast on the table, grease each one with onion gruel, on one side.
Sprinkle the breast with spices and salt, stack it on top of each other.
Wrap the breasts in plastic and leave to marinate in the refrigerator.
I take ready-made dough, which I defrost at room temperature.
I pinch off small pieces from the total mass and roll them into a circle, leaving the edges slightly thinner than the center.
I take the marinated breast out of the refrigerator, do not cut it, but use it whole. I fold it in a triangle and spread it in the center.
Gather the edges of the dough in the center, forming a triangle, pinch the edges tightly, and do the same with the rest of the dough.

I spread the samsa on a baking sheet "seams down", covered with baking paper.
In a bowl I break an egg and grease each puff with it, then sprinkle them with sesame seeds and bake in an oven preheated to 180 degrees for 35-45 minutes.
Bon appetit!
Also Like
Comments for "Samsa with Chicken Breast"