Samsa with Chicken Fillet
by Editorial Staff
In Central Asia, they adore samsa. Fortunately, the traditions of oriental cuisine have come down to us. I am sharing with you a simple recipe for making samsa with chicken fillet. Easy and satisfying baked goods that are quick to prepare.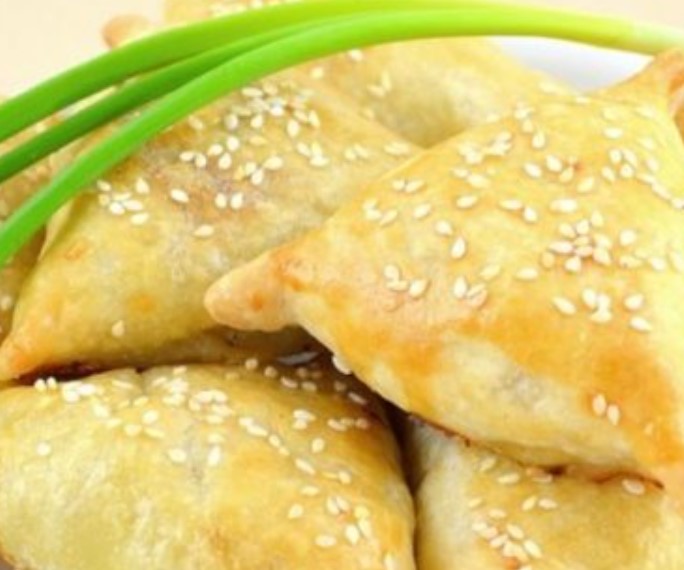 Cook: 1 hour
Servings: 8
Ingredients
Flour – 250 Grams
Butter – 100 grams
Chicken fillet – 700 Grams
Bulb onion – 200 Grams
Egg yolk – 1 Piece
Sesame – To taste
Salt and Pepper – To taste
Directions
Mix flour with 1/3 teaspoon. salt. Add grated butter. We mix.
Pour in 100 ml. cold water, make "hand kneading", place the dough in the freezer for 30 minutes.
Wash the chicken fillet and mix with chopped onions. Salt and pepper to taste.
Roll out the dough into a sausage, cut it into 7-8 pieces.
Roll out the dough into flat cakes with a diameter of 12 cm. Put the filling inside.
We form triangular patties with our hands, pinching the edges of the dough.

Cover the baking sheet with baking paper, put the samsa on it. Lubricate the pies with a beaten egg, sprinkle with sesame seeds. We bake in the oven for 40 minutes, temperature 180 degrees.
Bon Appetit!
Also Like
Comments for "Samsa with Chicken Fillet"