Samsa from Puff Pastry with Pumpkin
by Editorial Staff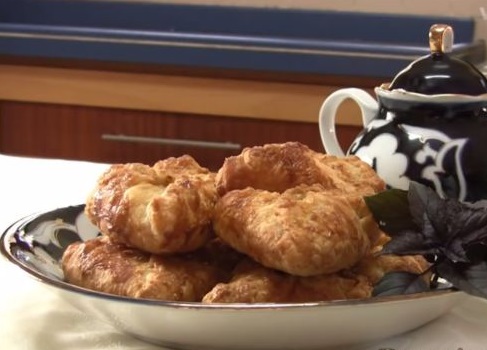 Samsa with pumpkin is one of my favorite dishes. Even people who do not like pumpkin eat samsa and manti with a pumpkin on both cheeks. Samsa prepared according to this recipe will decorate any festive table.
Ingredients
Instant puff pastry – from 200 g margarine
Pumpkin – 200 g
Crude fat – 50 g
Onions – 80 g
Sugar – 0.75 teaspoon
Salt – 0.75 teaspoon
Ground black pepper – 0.3 teaspoon
Directions
Cooking samsa with a pumpkin recipe.
First, let's prepare the filling. Chop the onion into thin half-rings.
Cut the bacon into small cubes.
Cut the pumpkin into 0.5 cm cubes. Add sugar, salt, and black pepper. Mix everything well. The filling for puff samsa is ready.

Roll out the puff pastry into a layer 3 millimeters thick.
(You can use instant puff pastry or yeast-free puff pastry.)
Cut out circles with a round notch, about 15 centimeters in diameter.
From this amount of products, 10 blanks for samsa should be obtained. Cut out 10 circles, put the filling in the middle of each, distributing it evenly.

We sculpt samsa in the form of triangles. Brush the samsa with yolk, half diluted with water, and bake in a preheated oven at 190 degrees Celsius for 20-25 minutes.
Remove the flaky samsa with a pumpkin on a wooden board, let it cool a little, put it on a dish and serve it to the table.
Also Like
Comments for "Samsa from Puff Pastry with Pumpkin"