Tandoor Samsa (Uzbek Puff Pastry with Meat)
by Editorial Staff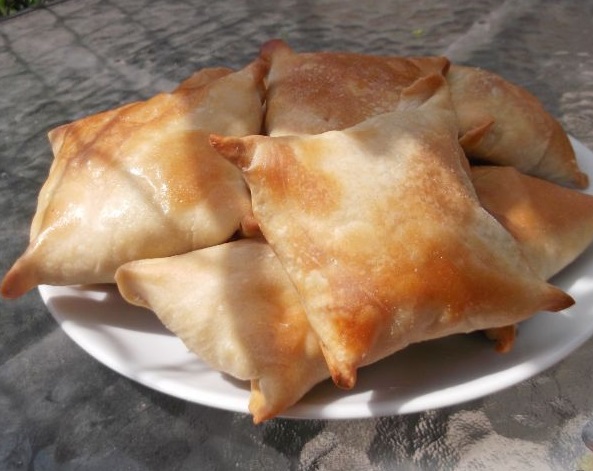 Puff pastry samsa or Uzbek samsa is Uzbek pies with meat, usually lamb, which are baked in a tandoor. The recipe for samsa patties is based on a combination of puff pastry and chopped lamb and onion filling. An important part of the traditional recipe for samsa with meat is the Uzbek tandoor – a special clay oven, but at home, you can bake samsa in the oven.
Ingredients
Flour (400-450 g) – 3 cups
Water – 1 glass
Salt – 1 teaspoon
Vegetable oil – 30-50 g
or Lamb fat – 30-50 g
Butter (for lubrication) – 50-100 g
Fatty lamb (pulp) – 300 g
Onions – 3-4 pcs.
Salt – 0.25 teaspoon
Ground black pepper – 0.25 teaspoon
Directions
Prepare products for samsa from puff pastry.
How to make puff pastry samsa (Uzbek pies):
Prepare puff pastry for samsa. Dissolve salt in water.
Pour flour into a bowl. Make a hole, pour water there.
Knead a not very tough dough from flour and salted warm water, as for noodles. Wrap in plastic wrap or towel and leave for 30-40 minutes.
Peel and chop the onion very finely.
Separate the pulp from the bones and chop.
For minced meat, finely chop the meat with a hoe or pass it through a meat grinder

Combine onion and meat, add ground black pepper, salt. Mix.
Pour in two tablespoons of water, mix well.
Sprinkle the table with flour, lay out the dough, roll out a large thin circle with a rolling pin. The dough should be about 1 mm thick
If there is no large surface on which to roll out the entire dough, it can be divided into several pieces and rolled out separately.
Lubricate it with refined or calcined and cooled vegetable oil.
You can grease the dough with loose lamb fat.
Screw on a rolling pin.
Cut in half along the rolling pin.
Cut the resulting strip lengthwise into two halves, then crosswise into rectangular squares (6×8 cm).
Cut the raw minced meat into square or round pies. To do this, roll the prepared squares with a rolling pin to a thickness of 1.5-2 mm. Put 1 tablespoon in the middle of each square. a spoonful of minced meat.
Blind samsa, forming a square, triangle, or circle.
Samsa is baked from puff pastry in a tandoor or oven on a sheet.
To bake samsa in the oven, it must be heated to a temperature of 190-200 degrees. Bake samsa for 30-35 minutes, until golden brown.
Cover the baking sheet with parchment. Layout samsa.
Melt the butter in a saucepan.
When the Uzbek meat pies are browned, they are taken out, greased with ghee, you can even sprinkle them with butter.

Then they are placed on a dish and served hot.
To make the Uzbek pies softer, put them hot in a bag, and leave the puff pastry samsa to "steam" for 30 minutes.
Also Like
Comments for "Tandoor Samsa (Uzbek Puff Pastry with Meat)"