Sambusa (Samsa in Tajik)
by Editorial Staff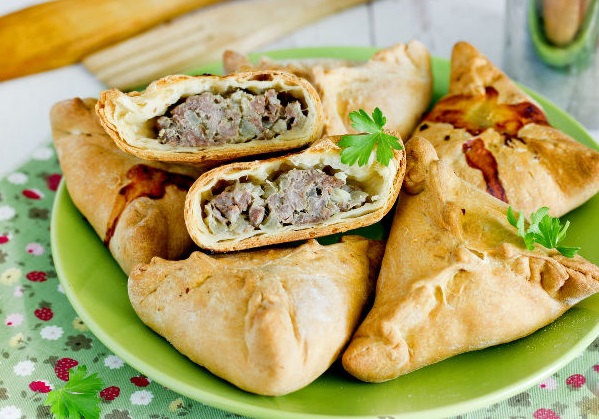 Sambus is called small triangular-shaped pies made of unleavened or puff pastry stuffed with minced meat and onions. This dish belongs to Tajik cuisine, but it is cooked and loved all over the world. For the filling, you need to take only beef or lamb, no pork, chicken, or turkey. And a little cumin in the filling – it will only emphasize the flavor of this legendary dish.
Ingredients
Beef or lamb – 400 g
Bulb onions – 2 pcs.
Salt to taste
Ground black pepper – to taste
Zira – 3 pinches
Wheat flour – 350 g
Water – 150 ml
Salt – 2 pinches
Sunflower oil – 1 tbsp
Directions
Prepare food.

Mix flour, salt, and water into a homogeneous dough. Place it in a bag and let it rest for 15-20 minutes – the dough will become elastic and pliable.
For the samba filling, cut the frozen meat (this will facilitate cutting and give the filling juiciness) into small cubes, literally chop it with a knife, but do not use a meat grinder.
Peel the onions and cut them into small cubes. Onions need to take 30% of the amount of meat.
Now combine the meat and onions, add salt, black pepper, and cumin.
Stir the samba filling. If you used meat that was not frozen, then add a little water.
Roll out the rested dough into a thin rectangular layer. Brush the entire surface of the dough with sunflower oil and roll it into a tight roll.
Cut the roll of dough into equal-sized pieces. Take a piece of dough and roll it into a thin circle.
Place some of the meat filling on the dough.
Close the filling, forming a triangle.
Do the same with the remaining dough and filling.
Bake the sambus in an oven preheated to 180 degrees for about 35-40 minutes.
Cover the finished sambus with a clean towel and let it sit – the dough will become soft.
Bon Appetit!
Also Like
Comments for "Sambusa (Samsa in Tajik)"