Lagman in Uzbek
by Editorial Staff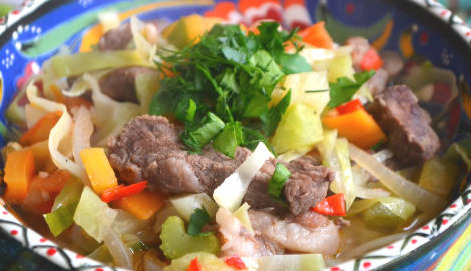 Lagman is a very aromatic, slightly spicy, thick first course of meat with vegetables and noodles, which everyone, without exception, will like. There is not always enough time to cook noodles, so we offer an Uzbek lagman recipe with ready-made noodles.
Ingredients
Beef (pulp) – 300 g
Long noodles – 50-200 g
White cabbage – 150 g
Stalked celery – 2 stalks
Tomato – 1 pc.
Bulb onions – 1 pc.
Carrots – 2 pcs.
Hot red pepper – 1 pc.
Bulgarian pepper – 1 pc.
Green radish – 1 pc.
Tomato paste – 1 tbsp
Garlic – 2 cloves
Adjika dry – 0.5 teaspoon.
Ground coriander – 1 teaspoon
Vegetable oil – 3 tbsp
Dry paprika – 1 teaspoon
Salt to taste
How to cook lagman in Uzbek:
Directions
Cut the beef into thin strips or small cubes.
Cut the onion into thin half-rings, and cut the carrots into small cubes.
In a deep frying pan with heated sunflower oil, fry the meat until tender. Salt to taste.
Add onions and carrots. Fry vegetables with meat, stirring constantly, for 5 minutes.
Chop vegetables at random: cabbage, celery stalks, and green radish.
We also chop the tomatoes, bell peppers, and hot peppers finely enough.
Add tomatoes and peppers to the pan to lightly fried meat, onions and carrots.
Add finely chopped garlic, tomato paste, coriander, dry adjika, paprika, salt, and black pepper.
And the last to add to the pan are chopped cabbage, celery, and radish.

We put everything in a saucepan, pour 5-6 glasses of water. Cook lagman for 15-20 minutes (vegetables should not be boiled).

Cook the noodles in salted water until tender. Put a small number of ready-made noodles in a separate plate.
Fill the noodles with meat gravy with vegetables and sprinkle with herbs if desired. Lagman is ready in Uzbek.
Enjoy your meal!
Also Like
Comments for "Lagman in Uzbek"