Lagman (Uzbek Cuisine)
by Editorial Staff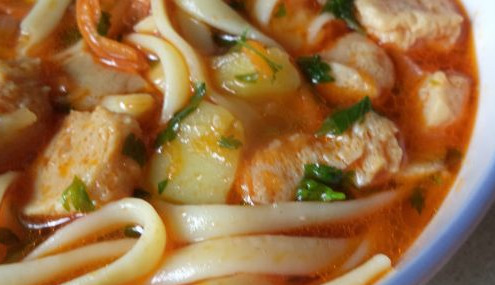 Lagman for lunch, in a hurry. This is not a "real" lagman, but a quick vegetarian version of a well-known dish – with shop noodles and soy meat.
Cook: 50 minutes
Servings: 6
Ingredients
Soy meat (for example, soy goulash) – 100 g
Long noodles (ready-made) – 400 g
Potatoes – 3-4 pcs.
Bulb onions – 1-2 pcs.
Carrots – 1 pc.
Tomato paste – 1 tbsp
or tomatoes – 3-4 pcs.
Salt – 0.5 tbsp
Black pepper dead – 1 pinch
Bay leaf – 1 pc.
Vegetable oil – 30 ml
Garlic (optional) – 2-4 cloves
Greens – 1 bunch
How to cook lagman without meat:
Directions
Boil the noodles separately. To do this, boil 2.5 liters of water in a saucepan, add salt. Dip the noodles in boiling water, bring to a boil. Cook over medium heat until tender, according to package directions.
Throw the finished noodles in a colander.
Boil the kettle. Put soy meat in a saucepan, pour boiling water over it. Cook over medium heat for 10 minutes, uncovered.
Then discard the soy meat in a colander.

Peel the potatoes, wash and cut into medium pieces.
Pour 2 liters of water into a saucepan. Boil. Dip the potatoes in boiling water. Boil the potatoes until tender, about 20 minutes.
While the potatoes are boiling, peel the carrots, rinse and grate on a coarse grater.
Peel the onion, rinse and cut into cubes.
Preheat a frying pan, pour in vegetable oil. Place the onions and carrots. Saute for 2-3 minutes, stirring occasionally.
Then add the tomato paste. Mix. Instead of tomato paste, add tomatoes. To do this, they need to be peeled and chopped.
At the end of stewing, add soy to the pan and simmer for 5-10 minutes, covered, over low heat.

Add sautéed vegetables with soy to the potato broth, salt, add spices. Cook covered over low heat for 10 minutes.
Peel and chop the garlic with a knife. Rinse greens, chop finely.
Arrange the noodles in plates, pour over the vegetable broth. Add herbs and garlic to plates.
Lagman in Uzbek vegetarian is ready.
Enjoy your meal!
Also Like
Comments for "Lagman (Uzbek Cuisine)"