Lagman with Rice in Uzbek
by Editorial Staff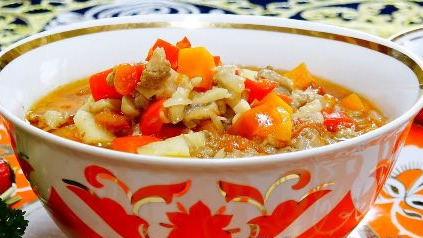 We really liked the lagman with rice. Since then, this dish has been a frequent guest on our table.
Ingredients
Raw rice – 600 g
Lamb (pulp) – 600 g
Vegetable oil – 200 g
Onions – 300 g
Garlic – 1 head
Carrots – 200 g
Potatoes – 400 g
Tomatoes – 400 g
Bulgarian pepper – 200 g
Salt – 3 teaspoon
Ground black pepper – 1 teaspoon
Zira – 1 teaspoon
Cilantro seeds – 0.5 teaspoon
Bay leaf – 2 pcs.
Green onions – (optional)
Cilantro greens – (optional)
Water – 900 ml (for cooking rice)
Water – 1.2 L (for sauce)
Directions
First of all, let's prepare the vegetables. We clean and wash 200 grams of carrots. We clean and wash 400 grams of potatoes. Put the carrots and potatoes in the water. We need 400 grams of onion. Cut the onion in half, peel, and wash. Divide into cloves and peel the head of garlic.
Now we have to cut vegetables and meat. We always put a damp cloth under the board so that it does not slide on the table. We clean one paprika weighing 200 grams from seeds and stalks and cut into cubes with a side of 8-10 millimeters. Put the chopped peppers in a bowl. We cut all vegetables and meat approximately equally.
We cut the prepared carrots and send them to the pepper.
Dice the onion and place in a separate bowl.
Cut the garlic into thin slices. Mix the chopped garlic with one teaspoon of ground black pepper and put it in a separate bowl.
Wash 400 grams of ripe tomatoes, remove the stalks and cut into cubes. Place in a separate bowl.
Wash 600 grams of lamb pulp and dry. Cut into cubes. First, cut into steaks. Cut the steaks into strips and cut the strips into cubes.
Finally, cut the potatoes and put them in a bowl of peppers and carrots.
Let's start making the rice lagman sauce. Pour 150 grams of vegetable oil into a cauldron or a saucepan with a thick bottom. We put on fire. Preheat and add chopped onion. Stirring from time to time, fry the onion until transparent. Add garlic and fry for another minute.
We lay the meat. Stir and fry until the meat changes color.
It's time to add the tomatoes. Add them and mix.
Fry for one minute and put the rest of the vegetables in the cauldron. Stir and simmer over low heat, stirring from time to time, until half cooked. Approximately 20 minutes.
It's time to put the rice to cook. Pour 50 grams of vegetable oil into a deep frying pan, a small cauldron, or a saucepan with a thick bottom. Add 600 grams of rice. Stir and heat, stirring occasionally until the rice begins to change color. Salt with one, without top, a teaspoon of salt.
Add 900 ml of boiling water, cover with a lid. We make very low heat and cook until tender, without lifting the lid, for about 20 minutes.
We return to the sauce. Salt the lagman sauce with 2 teaspoons of salt. If desired, you can use any spices of your choice, or not add any spices at all. We add a teaspoon of ground cumin and half a teaspoon of ground cilantro seeds. Add 2 bay leaves. We mix.
Pour 1.2 liters of hot water into the cauldron, bring to a boil and cook over low heat until fully cooked about 30 minutes.
While the lagman sauce is cooking, chop the herbs. Lagman can be sprinkled with any herb of your choice. We chop green onions and cilantro.
The rice is ready, the sauce is ready – you can serve lagman to the table.
Put hot rice in a bowl and pour over the sauce.
Sprinkle with herbs and serve delicious lagman with rice to the table.
Enjoy your meal!
Also Like
Comments for "Lagman with Rice in Uzbek"