Fast Pilaf
by Editorial Staff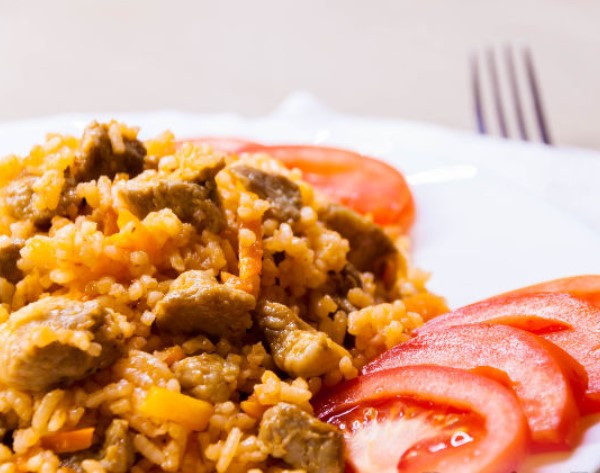 Today we will cook quickly PLOV – not in the usual way, but very quickly, in a frying pan.
Cook: 30 mins
Serving: 6
Ingredients
Rice – 350 g
Meat (pork) – 350 g
Carrots – 2-3 pcs.
Medium onion – 2 pcs.
Tomato (optional) – 30 ml
Garlic – 2 cloves
Vegetable oil – 75 ml
Salt to taste
Ground black pepper – to taste
Directions
Prepare products for quick pilaf in a frying pan.
Important! Rice, meat and carrots, cut into strips, take equal amounts, for which I use the same cups.
It is advisable to immediately pour the required amount of vegetable oil into a glass for convenience.
You can not add the tomato at all (this is optional and mood).
After washing the rice 5 times, fill it with boiled water for at least 3 hours (you can leave it overnight), it depends on your daily routine. Before cooking, we drain the rice and rinse it again.
Cut the meat into medium-sized cubes.
Be sure to cut the carrots into strips.
Finely chop the onion.
We peel two cloves of garlic and start cooking.
Take a frying pan with a tight-fitting lid. Pour some oil from our glass into it. And fry the meat under the lid until golden brown. Fry the meat over high heat for 5-6 minutes. When we see that a golden crust is formed, we can add salt and pepper to the meat.

Meanwhile, we put the water to boil. Water needs to be boiled for about a mug and a half from the one we used to measure our components.
Mix well, cover and fry for a couple of minutes.
Open the lid, mix the meat with the onion, add vegetable oil from our glass and lay out the carrots cut into strips.
Mix everything well. Now you can add a little more salt and pepper. Close the lid and fry for 2 minutes.

While the carrots are fried, we make the filling. Fill the tomato with boiled water, which was prepared during frying onions.After a couple of minutes, open the lid, mix the carrots. Pour in the rest of the vegetable oil from our glass and add the rice washed after settling
Pour our "chatterbox" with tomato into the rice (I repeat that you don't need to add tomato, there is no tomato in the classic pilaf recipe). We level everything well and add boiled water so that 1 centimeter of water remains on top of the rice. Put two cloves of garlic, salt, and gently mix again.
Cover with a lid and reduce the temperature by 3 times. For example, on my stove, I decrease from "9" to "3".The rice will begin to absorb moisture. And lifting the lid, occasionally stirring gently, you will see how the liquid is absorbed.
After 8-10 minutes, all the liquid is absorbed.

Then you need to turn off the stove. Gently stir the pilaf one last time. Cover tightly and leave the quick pilaf in a frying pan for 20 minutes. The real pilaf will be even tastier.
Not everyone can resist and defend pilaf after cooking for 20 minutes. And you don't need to restrain yourself. You still won't be able to eat the whole pilaf, since this is a very satisfying dish. Therefore, each of you will try pilaf immediately after preparation and after its infusion.
Bon appetit!
Also Like
Comments for "Fast Pilaf"