Chicken Pilaf
by Editorial Staff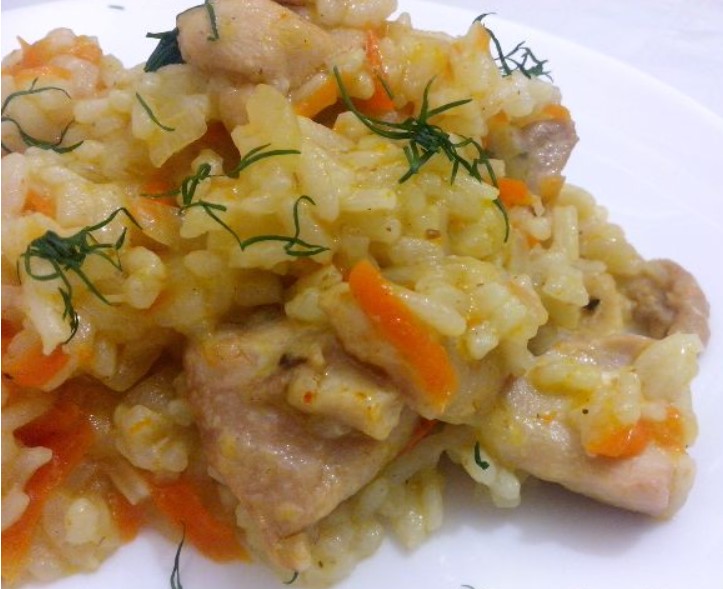 The pilaf recipe is quite simple, rather it is a variation on the pilaf theme. If you want to prepare a delicious dish from simp
Cook: 45 mins
Servings: 4
Ingredients
Chicken (gutted) – 360 g
Water or broth – 450 ml
Rice – 200 g
Butter – 70 g
Bulb onion – 1 piece
Carrots – 1 pc
Salt – 0.5 teaspoon
Pepper – 1 pinch
Dill – 1-2 branches
Directions
Pilaf ingredients.

Cut the washed and processed chicken or chicken into 40-gram pieces.
Heat a frying pan, melt 50 grams of butter, fry in a pan over medium heat, stirring for 5-7 minutes, put in a saucepan.
Peel the onion, wash, chop finely.
Peel carrots, wash, grate on a coarse grater.
In a pan with oil where the chicken was fried, add the remaining oil, add onions, fry for 2-3 minutes.
Add carrots to the onion and fry for another 2-3 minutes over medium heat.
While the onion is fried, boil water or broth.
Mix the fried chicken with the sautéed onions and carrots.
Pour in water or broth (150 g per serving), add salt and pepper. Boil.
Wash the rice, sort it out. Pour sorted and washed rice into the resulting broth and cook pilaf, like from lamb (cover a saucepan, bring to a boil over medium heat, reduce heat, cook on low heat for 20 minutes).

When serving, sprinkle with dill (you can tear off a couple of feathers with your hands).
Enjoy your meal!
Also Like
Comments for "Chicken Pilaf"