Uzbek Stuffed Pepper
by Editorial Staff
Bright and colorful stuffed peppers in Uzbek style are the perfect hot dish for lunch or dinner. The pepper is served along with the tomato sauce in which it was cooked and bread, so the dish is very satisfying.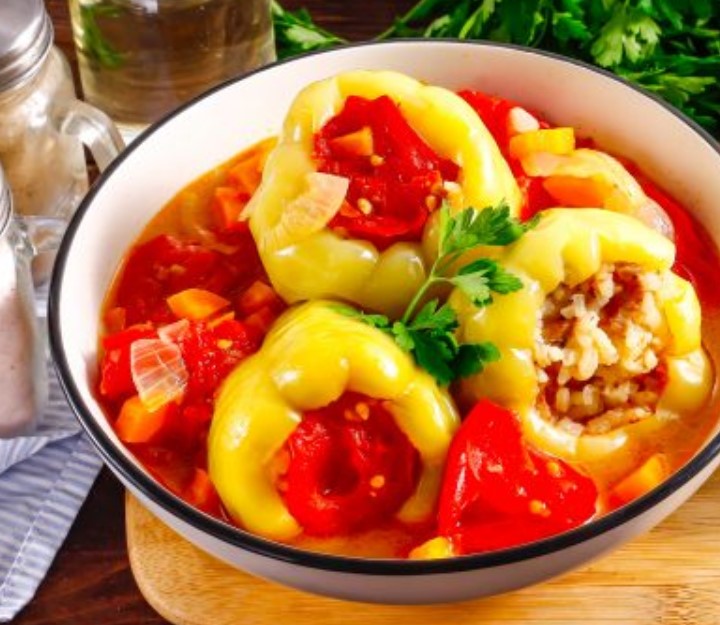 Cook: 1 hour
Servings: 3-4
Ingredients
Bulgarian pepper – 6 pieces
Rice – 150 Grams
Tomatoes – 4-5 Pieces
Carrots – 1 Piece
Onion – 1 Piece
Vegetable oil – 1.5 Art. spoons
Lamb – 400 Grams
Hot water – 600 Milliliters
Salt – 0.5 Teaspoons
Ground black pepper – 2 Pinches
Directions
Prepare the indicated ingredients. Use slightly oily lamb so that the dish does not taste dry.
Rinse the rice in cold water several times, thoroughly washing out the starch.
Peel the lamb from the veins and films that this meat is rich in, cut into small cubes or pass through a meat grinder. Mix the minced meat, rice, 0.25 teaspoon in a container. salt and ground black pepper. If desired, you can add a little ground coriander, other spices and herbs.
Remove the seeds from the bell peppers by cutting the cap off each fruit. Rinse with water.
Stuff the peppers with the prepared minced meat, leaving about 1 cm unfilled, the rice will swell and just fill the whole vegetable when cooking. Otherwise, the peppers will burst and the filling will fall out into the broth!

Peel the onions and carrots, cut into large cubes, after washing. Heat vegetable oil in a cauldron and fry the vegetable slices in it for about 3-5 minutes until soft.
Rinse the tomatoes, leaving one, and cut them into quarters, cutting out the green cores. Add to the cauldron and simmer for 2-3 minutes. Then pour in hot water, add the remaining salt.
Cut the remaining tomato into slices and cover the filling in the peppers. Place the peppers in the broth and simmer for about 40-50 minutes on moderate heat.
To check if the dish is cooked, gently pierce one pepper and taste the rice – it shouldn't be undercooked. Turn off the heating.
Put the stuffed peppers in a plate, cover with tomato broth and serve hot, not forgetting the sour cream.
Bon appetit!
Also Like
Comments for "Uzbek Stuffed Pepper"