Classic Stuffed Peppers
by Editorial Staff
Today you will learn how to cook classic stuffed peppers. This cooking option involves the use of rice and meat as a filling. Minced meat is suitable for pork or beef.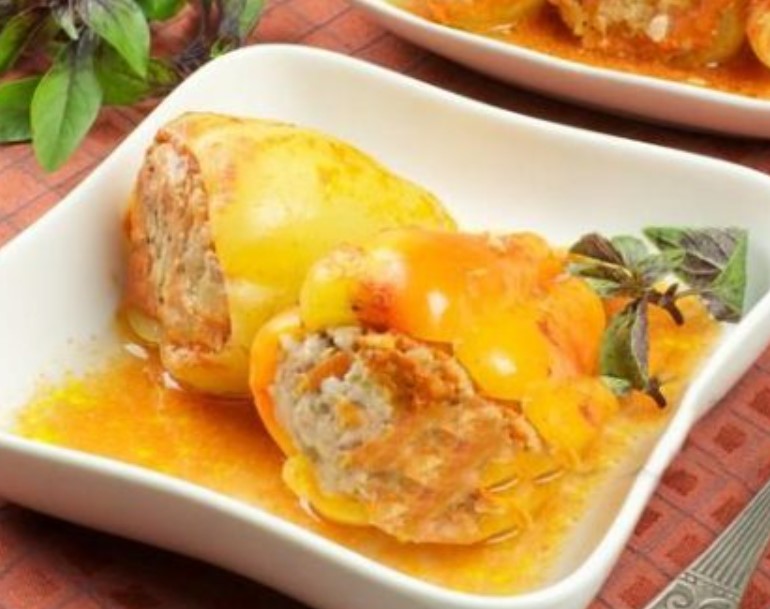 Cook: 2 hour
Servings: 8
Ingredients
Onion – 1 Piece
Carrots – 2 Pieces
Ground black pepper – 3 Pinches
Minced pork – 500 grams
Tomato juice – 1 Liter
Sweet pepper – 8 pieces
Long grain rice – 0.5 Cups
Sour cream – 3 tbsp
Directions
Peel the carrots with onions, wash and chop as follows: three carrots on a grater, and just finely chop the onion with a knife. Next, fry the vegetables in a skillet until golden brown.
Rinse the rice and fill it with a cup of water (200 ml.) Boil, and then reduce the heat. Cook for 20 minutes with the addition of salt. Then we mix rice with vegetables and minced meat.
My peppers, cut off the back of them. We remove the caps, and put the filling inside each pepper. We start soundly, not sparing.

Pour cooking oil into a saucepan and lay out our stuffed vegetables. Stir the sour cream with tomato juice, pour this dressing into our saucepan.
Bring the mass to a boil, and then reduce the heat. The peppers are cooked, covered over low heat, for 45 minutes. Salt for 2 minutes until cooked.
Bon Appetit!
Also Like
Comments for "Classic Stuffed Peppers"