Diet Stuffed Pepper
by Editorial Staff
You can make a dietary option from almost any dish if you replace the high-calorie ingredients with lighter ones and eliminate frying. And here is an excellent example for you – stuffed dietary pepper.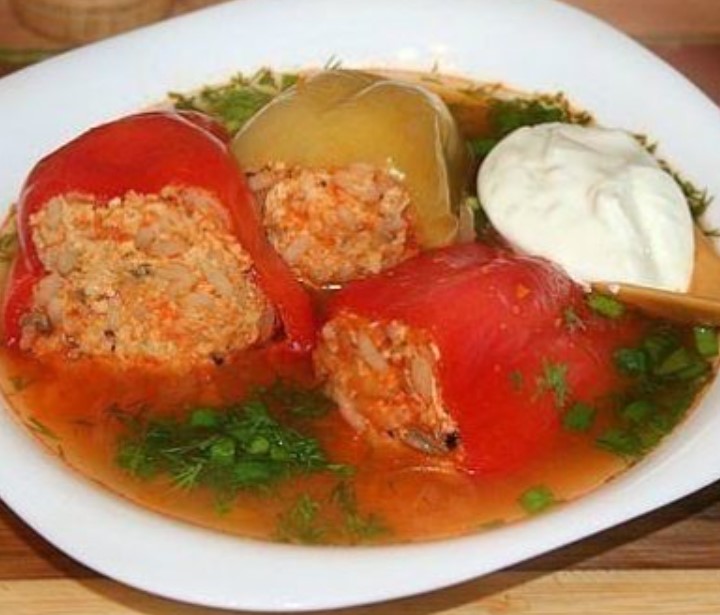 Cook: 1 hour
Servings: 11-12
Ingredients
Sweet pepper – 11-12 pieces
Chicken Breasts – 2 Pieces
Onions – 3-5 Pieces
Carrots – 2 Pieces
Rice – 0.5 cups
Tomato Sauce – 300 Milliliters (Natural)
Spices – To taste
Salt – To taste
Vegetable broth – 2 Liter
Directions
To begin with, clean the carrots and onions, remove the chicken breast from the bone and twist it through a meat grinder or grind it in a blender, boil the rice in slightly salted water until half cooked.
Then we prepare the pepper, carefully cut off the stalk attachment point, remove the seeds and rinse the pepper thoroughly.
Mix minced chicken breast with boiled rice, salt and pepper everything, mix thoroughly. Now we fill the peppers with minced meat and put them tightly together in a saucepan.

Three carrots on a coarse grater, cut the onions into small cubes, put the vegetables on top of the pepper. Fill everything with vegetable broth, add tomato sauce, salt and season everything with spices to taste. Put the pan on low heat and simmer the pepper for 40 minutes after boiling.
After 40 minutes, the dish will be completely ready, serve it with low-fat sour cream or yogurt.
Bon appetit, everyone!
Bon appetit!
Also Like
Comments for "Diet Stuffed Pepper"