Stuffed Peppers in Foil
by Editorial Staff
Perhaps someone likes to cook such a pepper more in the traditional way on the stove, but it is much more convenient for me to make it in the oven, and for the pepper to cook faster, it should be wrapped in foil.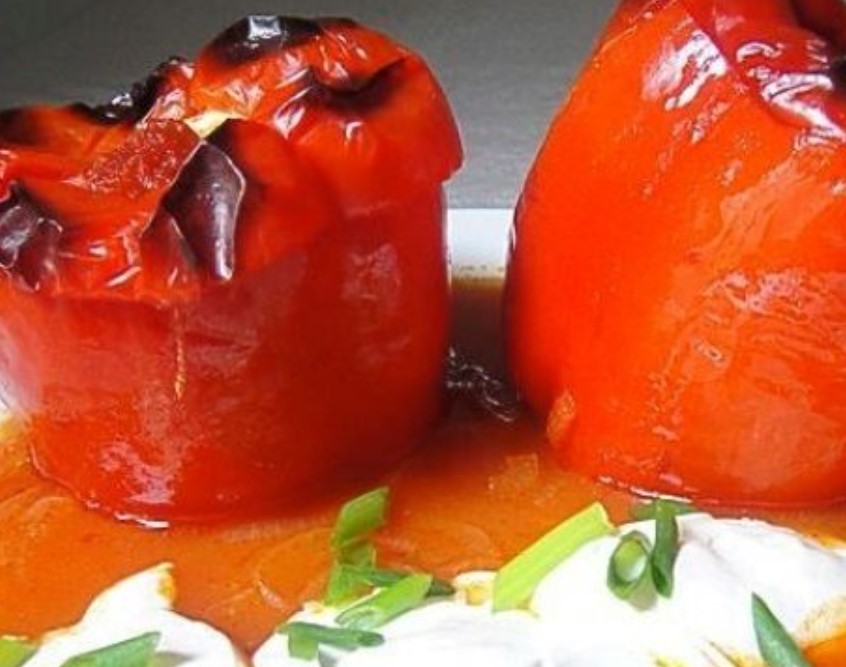 Cook: 2 hour
Servings: 6
Ingredients
Bulgarian pepper – 6 pieces
Minced meat – 800 grams (beef + pork)
Parmesan cheese – 200 gram
Onions – 2 Pieces (1 – in minced meat, 1 – in sauce)
Carrots – 1 Piece
Broth – 300 Milliliters
Tomato paste – 8 Art. spoons (1 – in minced meat, 1 – in sauce, 6 – in peppers)
Garlic – 2-3 Cloves
Fresh dill – 30 grams
Ground black pepper – – To taste
Salt – – To taste
Directions
So, let's start with preparing the peppers, for this we remove the stalk, cut off the place where it was attached. After that, carefully remove the seeds and rinse the peppers under running water.
A small piece should also be cut from the bottom so that the peppers are more resistant.
Next, peel the onions and chop them finely, three carrots on a coarse grater.

Fry vegetables in vegetable oil until golden brown.
Now put the minced meat in a deep bowl, add to it fried vegetables, grated Parmesan, chopped dill and garlic, rice, tomato paste diluted in 100 ml of water.
Salt and pepper everything to taste, mix the minced meat thoroughly until smooth.
Then we take a fairly deep baking dish and pour 300 ml of broth into it, add ground pepper and tomato paste.
Mix everything well and add the onion cut into half rings to this mass – now the sauce is ready.
Next, stuff the peppers with cooked minced meat and put them in a mold.
Add a tablespoon of tomato paste to each pepper.
Cover the peppers with the cut part to which the stalk was attached.
We cover the form very tightly with foil and send it to an oven preheated to 190-200 degrees, bake the peppers for about an hour.

After the time has elapsed, remove the foil and cook the peppers for another half hour without it.
Well, then, as usual, put the aromatic peppers on a plate and serve them with sour cream to the table.
Bon Appetit!
Also Like
Comments for "Stuffed Peppers in Foil"