Chicken Stuffed Pepper
by Editorial Staff
Chicken stuffed pepper is not the full name of the recipe, since the filling consists not only of chicken, but also of vegetables – carrots, celery, herbs, tomatoes, onions. It turns out tasty and healthy!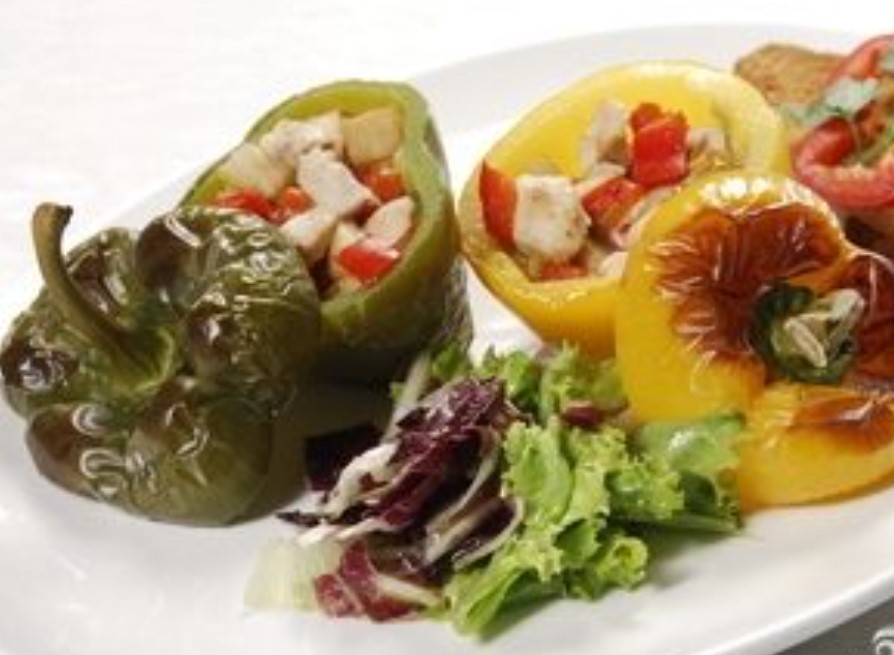 Cook: 45 mins
Servings: 2
Ingredients
Bulgarian pepper – 3 Pieces
Carrots – 1/2 Piece
Celery Root – 50 Grams
Onions – 1 Piece
Cherry Tomatoes – 6 Pieces
Chicken fillet – 200-250 grams
Olive oil – – To taste
Salt, pepper – – To taste
Directions
We will prepare all the necessary ingredients
First of all, cut the celery root into small cubes.
Then cut the carrots into small pieces.
Fry them in a skillet in oil.
Chop the leek.
Then dice half of the red bell pepper.
Then cut the cherry tomatoes into quarters.
In a frying pan, where fried onions and celery are already languishing until golden brown, add peppers, tomatoes and leeks.

We wash the bell peppers, cut off the upper part (we do it carefully, we still need it). Cut out the seeds.
Then blanch the peppers for a short time in boiling, salted water.
At this time, fry the chopped chicken in small pieces in a separate frying pan.
Salt, pepper and fry the chicken for a short time. When it acquires a light, light blush, transfer it to a frying pan with vegetables.
Mix everything well and fry quickly.
Put baking paper on a baking sheet and grease it with oil.
Stuff the peppers with the filling, tamping tightly.
Cover the peppers with caps and send them to an oven preheated to 180 degrees and bake until soft (10-20 minutes).
Bon Appetit!
Also Like
Comments for "Chicken Stuffed Pepper"