Canapes "Festive Assorted"
by Editorial Staff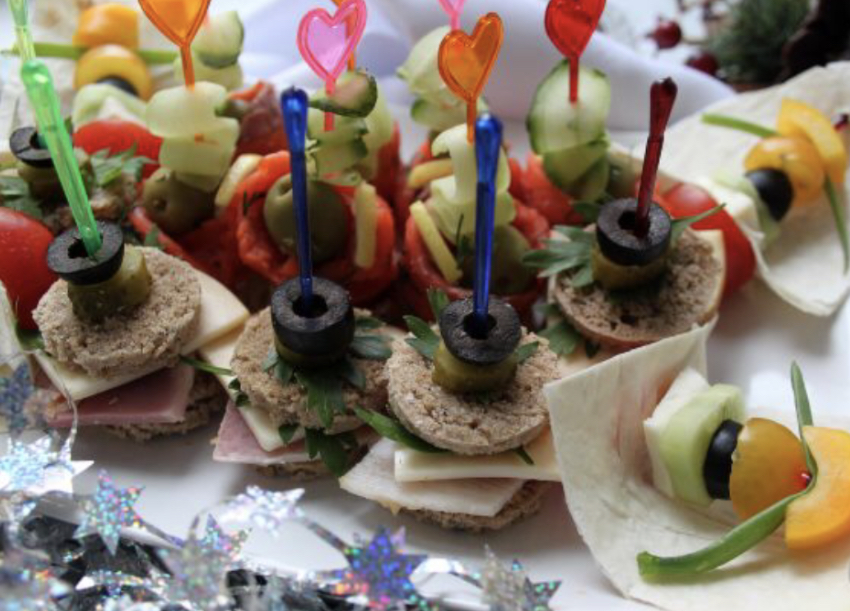 New Year's canapes are a great snack, nothing better to come up with. A plate of assorted fish, meat, and vegetable canapes will go to Hurray!
Ingredients
Black bread (lean) – 70 g
White bread (tin) – 100 g
Lavash – 40 g
Salmon (lightly salted) – 130 g
Boiled pork – 100 g
Cucumber – 35 g
Radish – 3-4 pcs.
Gherkins (pickled) – 25 g
Cherry tomatoes (yellow, red) – 50 g
Olives – 20 g
Olives – 30 g
Smoked cheese (slicing) – 25 g
Curd cheese (creamy, with herbs) – 25 g
Mustard (French) – 7 g
Dill – 5 g
Parsley – 5 g
Directions
You can use the most affordable products for assorted canapes. Usually, those that go to salad or slices.

Canapes with salmon and cucumber: white bread toast, sliced ​​red fish, curd cheese with herbs, radishes, olives, fresh cucumber, dill, lemon.
We make toast from tin bread, cut out circles (with a glass). Cut the salmon fillet into slices, sprinkle with dill; cut the lemon into quarters, the radish into a circle.
Chop the cucumber thinly lengthwise, with a slider (without peel).
We string the cucumber slice on a skewer with several punctures.
We collect canapes – grease the bread base with a thin layer of cheese and herbs, add a circle of radish, redfish. Olive on top, lemon on the side.
It remains to pierce with a skewer in the center, canapes with salmon and cucumber are ready.

For canapes with boiled pork and cheese: lean black bread with caraway seeds, boiled pork, smoked cheese, mustard (sweet), gherkins, olives.
Cut out circles from a piece of black bread, grease one side with mustard. Cut the boiled pork into thin strips, the cheese into quarters. Chop gherkins and olives into rings. We disassemble the parsley into leaves.
We collect the canapes – put a slice of boiled pork, cheese, parsley on the bread base, again cover it with a mustard circle with mustard down. Put the parsley, pickled cucumber, and olive on top. We pierce with a skewer.
Vegetable canapes: put pepper, an arrow of green onions, half a yellow cherry tomato, a circle of olive, cucumber, and a piece of cheese in a small piece of pita bread in the shape of a rectangle. Cut the red cherry tomato in half.
Pierce with a skewer so that half of the red tomato is the base.

We shift the assorted canapes to a common plate.
Canapes can be served on the festive table!
Enjoy your meal!
Also Like
Comments for "Canapes "Festive Assorted""