Canapes with Fish
by Editorial Staff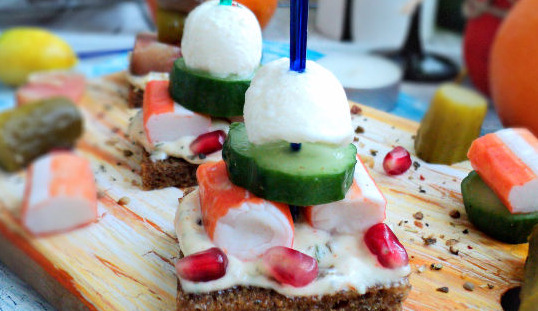 Today we will prepare a fish canapé with cucumbers and cheese. These sandwiches are great for buffet events.
Ingredients
Light salted pink salmon – 80 g
Crab sticks (crab meat) – 3-4 pcs.
Fresh cucumber – ½ pc.
Gherkins – 5-6 pcs.
Mozzarella cheese – 60 g
Black loaf with spices – 3-5 slices
Tartar sauce – 30 g
Fatty mayonnaise – 30 g
Paprika – pinch
Provencal herbs – pinch
Pomegranate seeds – 15-20 pcs.
Olive oil – 10 g
Salt to taste
Pepper to taste
How to make fish canapes:
Directions
Cut off the required number of slices of brown bread, cut off the crusts and edges, choose the shape and size of the crumb for yourself.
Wash fresh cucumber, dry, cut into slices. Cut the gherkins into two pieces; ordinary pickled small cucumbers are also suitable.
Fry the cut bread slices in olive oil until golden brown.

Cut lightly salted pink salmon and sticks with crab meat into small pieces.
Mix mayonnaise with tartar sauce, add a pinch of paprika and Provencal herbs, mix everything.
Brush the croutons with cooked sauce.
Lay the pieces of pink salmon and sticks on top.

Lay a fresh cucumber or half a gherkin on top.
Lay a ball of mozzarella or other favorite cheese on top of the cucumber.
Secure the prepared sandwich with a special skewer, garnish with pomegranate seeds, serve with a glass of wine and a slice of any citrus.
Enjoy your meal!
Also Like
Comments for "Canapes with Fish"