Canapes with Vegetables
by Editorial Staff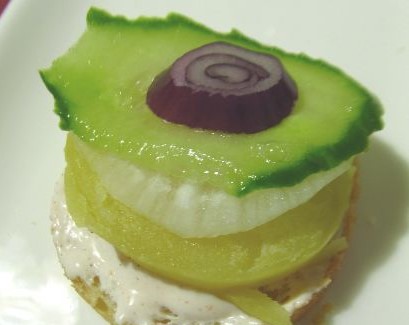 I cook vegetable canapes on a dried baguette. Such an appetizer flies off the festive table in an instant, because canapes with vegetables are convenient, tasty, and low-calorie.
Ingredients
Hot dog bun – 1 pcs. or 1/3 baguette
Small daikon radish – 100 g
Fresh cucumber – 100 g
Small potatoes, cooked in their skins – 100 g
Red onion – 1/3 pcs.
Sour cream – 1 tablespoon.
Mayonnaise – 1 tablespoon
Salt to taste
Ground black pepper – to taste
Directions
Cut the bun or baguette into slices 1 cm thick. Dry the bread in the oven for 3-4 minutes (it is not necessary to brown them). Cut the radish into slices as thin as possible (it is better to do this with a vegetable peeler).

Also, cut the cucumbers into thin slices. Peel the potatoes and cut them into slices. Cut the red onion into rings.

For the sauce, mix sour cream with mayonnaise, add salt and pepper to taste, stir.
Put some sauce on the dried bread slices, lay on top with potatoes, daikon, cucumber, and onions in layers. You can add more sauce on top.
Also Like
Comments for "Canapes with Vegetables"