Canapes "Assorted"
by Editorial Staff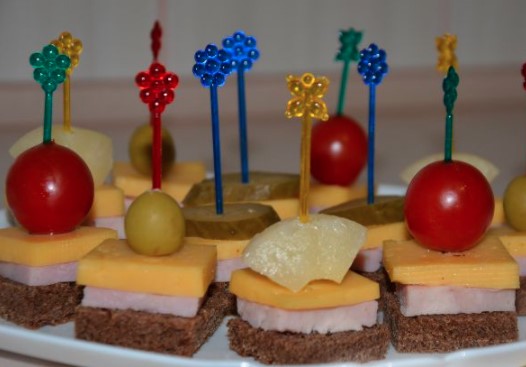 Canape sandwiches are gaining all popularity since such an appetizer is quick and easy to prepare, it is original and attractive. I bring to your attention delicious assorted canapes, the basis of these canapes is cheese and ham.
Ingredients
Rye bread – 75 g
Ham – 100 g
Cheese – 50 g
Canned pineapple – 1 ring
Pickled cucumbers – 1 pc.
Cherry tomatoes – 3 pcs.
Olives – 3 pcs.
Directions
Cut rye bread thinly into slices about 1 cm thick. Cut off the crust from slices of bread. Cut into 4 squares. Put on a baking sheet and send to the oven to dry slightly.

Cut the cheese into rectangular slices of the same size as the bread slices. Do the same with the ham.
Chop the pickled cucumber. Put ham on each slice of bread. And top with a slice of cheese. This will be the base of the canapé.
Then layout a slice of a cucumber and fasten with a skewer. Put cherry tomatoes on the base of the canapés and chop with a skewer.
Cut the pineapple into desired pieces. Put a piece of pineapple on the "pyramid" of canapes and fix it with a skewer. Do the same with olives.

Place the canapes in several rows on a large flat dish. The appetizer is ready to serve.
Bon appetit and wonderful holidays!
Also Like
Comments for "Canapes "Assorted""