Assorted Meat Solyanka with Cereals
by Editorial Staff
There are a lot of variations of the prefabricated meat hodgepodge. At the same time, a simple and very tasty soup with a lot of meat and smoked meats is very popular, because it is an aromatic and nutritious dish. This recipe for hodgepodge is original in that cereals are added to it, and at the same time there are three types – rice, pearl barley and buckwheat. The result will definitely surprise you!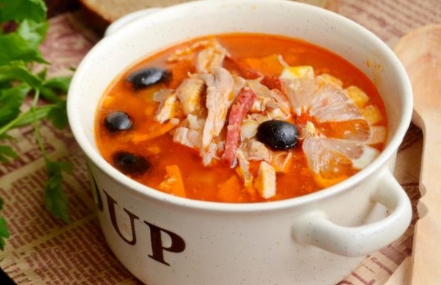 Cook: 2 hours 30 mins
Servings: 8
Ingredients
Pork – 300 g
Beef – 300 g
Chicken (any part on the bone) – 300 g
Pearl barley – 1 tbsp
Rice groats – 1 tbsp
Buckwheat groats – 1 tbsp
Bulb onions – 1 pc.
Pickled cucumbers – 3 pcs. (200 g)
Tomato paste – 1 tbsp
Cucumber pickle – 150 ml
Vegetable oil – 2-3 tbsp
Boiled sausage – 150 g
Smoked sausage – 150 g
Lard (regular or smoked) – 100 g
Pitted olives – 10-15 pcs.
Salt – 1 teaspoon
Ground pepper (a mixture of peppers) – to taste
Lemon (for serving) – to taste
Directions
Prepare all the ingredients for making the hodgepodge.

Wash chicken, pork and beef thoroughly and pour 2 liters of water into a saucepan.

Bring the water to a boil, remove the foam and cook for 5 minutes.
Then put the meat and chicken on a plate, drain the water and cover with clean water. Bring to a boil.
Put the meat back in the pot, bring to a boil and cook until the beef is tender, about 1.5 hours.
Heat vegetable oil in a skillet. Cut the peeled onions into small cubes and fry until transparent.
Cut the pickled cucumbers into small cubes. Add the cucumbers to the onions and sauté for 5 minutes.
Add tomato paste and cucumber pickle to the skillet. Stir.
Simmer for 5-7 minutes and turn off the heat.
Pour pearl barley and rice groats with cold water and leave for 15-20 minutes.
Cut the smoked and boiled sausage into thin cubes. Also cut the bacon into cubes.
Fry the sausage and bacon in a dry frying pan for 3-4 minutes, stirring occasionally.
Remove the cooked beef, chicken and pork from the broth. Cool and free the meat from skin, fat and bones. Cut the boiled meat into cubes.
Put the soaked rice and pearl barley into the boiling broth, and add 1 tablespoon. a spoonful of buckwheat.
Place the frying pan into the pot.
Also send lard and sausage to a saucepan with a hodgepodge.
Then add the boiled meat.
Add the mixture of ground peppers. Taste and salt if necessary. Be sure to try it, the salt content of sausage, cucumber and brine is different.
Boil the hodgepodge for 5-10 minutes and turn off the heat. You can add olives at this stage. When serving the hodgepodge, I put olives on the table, and each one adds to his own taste to his plate.
Let the prefabricated meat hodgepodge with barley, rice and buckwheat brew for 5-10 minutes and pour into plates. Add pitted olives and lemon wedge to taste.
Serve hot, complementing with rye bread and fresh herbs if desired.
A nourishing, fragrant hodgepodge with three types of meat and sausage – that's what will come in very handy the next morning after the holiday. 🙂
Help yourself!
Also Like
Comments for "Assorted Meat Solyanka with Cereals"