Solyanka Meat Team
by Editorial Staff
Cooking salt for lunch like in a restaurant.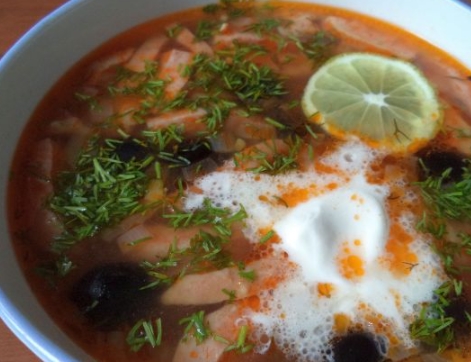 Cook: 30 mins
Servings: 4
Ingredients
Smoked sausage – 200 g
Sausages – 2 pcs.
Boiled beef – 100 g
Broth cubes – 2 pcs.
Water – 5 glasses
Bulb onions – 2 pcs.
Vegetable oil – 2 tbsp
Tomato puree – 2 tbsp
Pickled cucumbers – 2 pcs.
Pitted olives – 12 pcs.
Sour cream – 2 tbsp
Lemon – 0.5 pcs.
Salt (optional) – 0.5 teaspoon (to taste)
Directions
Products for prefabricated hodgepodge with sausages, sausages and meat in front of you.

Peel the onion, wash, cut into strips.

Preheat a frying pan, pour in vegetable oil. Place the onion in hot oil. Saute the onion in oil at full power without changing color, about 2 minutes.
Add the tomato to the onion.
Stir and heat for another 1 minute.
Cut meat products into strips.
Cut the sausages.
Cut the smoked sausage into strips.
Cut the boiled beef into strips.
Cut the cucumbers into strips.
Open a jar of pitted olives.
Crumble the bouillon cubes.
Pour water into a saucepan, put on fire, bring to a boil.
Put crumbled stock cubes, meat products, cucumbers, olives, sautéed onions into hot water. Salt.
Cook for 5 minutes at full power. Turn off the fire.
Let it brew for 10-15 minutes. The meat solyanka is ready.
Wash and finely chop the herbs.

When serving in each plate of the hodgepodge of the meat team, put a mug of lemon, sprinkle the hodgepodge with chopped herbs, and season with sour cream.
Enjoy your meal!
Also Like
Comments for "Solyanka Meat Team"