Solyanka with Smoked Meat
by Editorial Staff
There are a lot of recipes for hodgepodge. This is the fastest option, but very tasty. The aroma of smoked meats and pickles give the smoked meats hodgepodge a simply unearthly taste.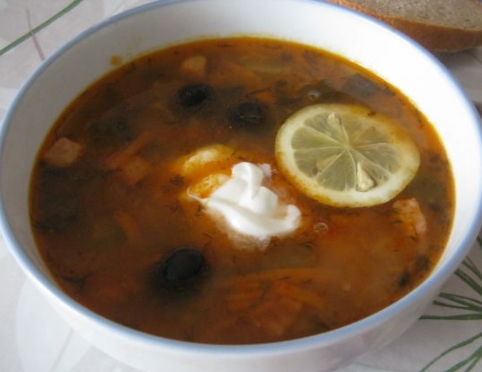 Cook: 40 mins
Servings: 8
Ingredients
Smoked brisket – 250 g
Raw smoked sausage – 150 g
Carrots – 150 g
Onions – 50 g
Potatoes – 200 g
Pickled cucumbers – 200 g
Vegetable oil – 20 ml
Tomato paste – 50 g
Bay leaf – 1 pc.
Salt – 0.5 tbsp (to taste)
Sugar (optional) – 0.5 – 1 teaspoon (to taste)
Olives – 100 g (to taste)
Dill – 1 bunch (to taste)
Lemon – to taste
Sour cream – to taste
Directions
Products for hodgepodge with smoked meat in front of you.

Boil 2.5 liters of water in a saucepan.

Peel, wash and dice the potatoes.
Peel the onion, wash and cut into cubes.
Put potatoes and onions in boiling water. Simmer over low heat, covered for 15 minutes.
Meanwhile, cut the sausage into cubes.
Dice the brisket.
Cut the cucumbers into cubes.
Wash and coarsely grate the carrots.
Preheat a frying pan, pour in vegetable oil. Layout the carrots. Simmer over medium heat, stirring occasionally, for 2-3 minutes.
Then lay out the smoked meats.
Fry, stirring occasionally, for 2-3 minutes.
Then add the tomato paste. Stir and add water (take 0.5 cups from a saucepan), salt and pepper, add sugar if desired.
Layout the cucumbers. Mix. Simmer over low heat for 5-7 minutes.
When the potatoes are ready, pour in the tomato dressing and stir. Add bay leaves. Cook the hodgepodge with smoked meats on the lowest heat for 5-7 minutes.

Solyanka with smoked meat is ready. Remove from heat and let it brew for 10-20 minutes. Wash and finely chop the dill, put in a saucepan. Pour soup into a plate, add olives, lemon slices,s and sour cream to taste.
Enjoy your meal!
Also Like
Comments for "Solyanka with Smoked Meat"