Home-Style Meat Solyanka
by Editorial Staff
It is good to make such a hodgepodge after the holidays when a lot of different meat remains. And I recommend cooking meat hodgepodge at home using any meat broth (I have chicken).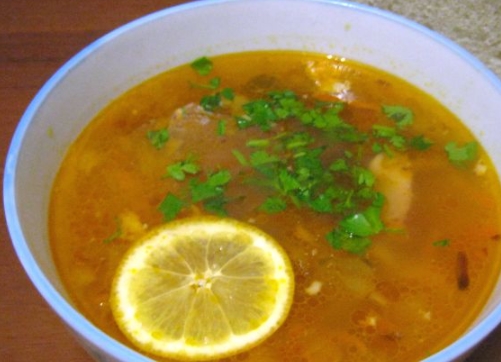 Cook: 1 hour
Servings: 6
Ingredients
Chicken – 500 g
Smoked meats (brisket, bacon, salami) – 500 g
Water – 2-2.5 l
Pickled cucumbers – 3 pcs.
Carrots – 1 pc.
Bulb onions – 1 pc.
Vegetable oil – 30 g
Brine (optional) – 100 g
Tomato paste – 1-2 tbsp
Salt to taste
Pepper to taste
Sugar – 1 teaspoon
Greens to taste
Lemon – to taste
Olives – to taste
Directions
Wash the chicken and pour cold water. Boil.

Remove foam, reduce heat to low, cook chicken, covered, until tender (about 40 minutes).

While the chicken is cooking, peel and wash the onions. Cut into cubes.
Peel, wash and grate the carrots.
Cut the cucumbers into cubes.
Dice smoked meat, bacon, sausage.
Chill the finished chicken.
Preheat a frying pan, pour in vegetable oil. Place the onions and carrots. Simmer, stirring occasionally, over medium heat for 3-4 minutes.
Add the tomato. Mix.
Layout the cucumbers.
Stir, add 100 g of broth. Simmer over low heat for 5 minutes.
Peel chicken meat from bones and skin, cut into pieces.
Put the frying in a saucepan, add all the chopped meat and sausage. Season with salt, pepper, add sugar, and brine (optional).
Cook the meat hodgepodge at home on the smallest heat under the lid for 10 minutes.

Home-style meat solyanka is ready. Serve with lemon, olives, and herbs.
Enjoy your meal!
Also Like
Comments for "Home-Style Meat Solyanka"