Meat Solyanka (with Kidneys)
by Editorial Staff
What is a hodgepodge? I had to work alongside many chefs. And each has its own version of the origin of the hodgepodge and – of course – its own recipe. Moreover, each chef considers his own hodgepodge to be the only correct one))). But one thing unites all recipes – all are equally tasty. Each in its own way, but certainly wonderful! ..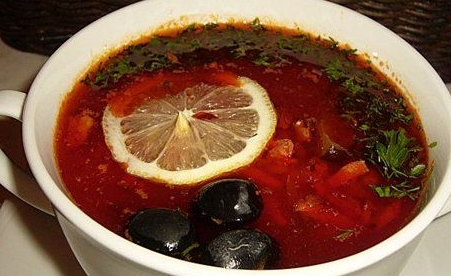 Ingredients
Beef kidneys – 1 segment – 300-400 g
A set of meat products – 500 g (these are smoked sausages, or smoked sausage, ham, boiled pork, any boiled sausage, jerky, etc.)
Pickled cucumbers – 300 g
Large onions – 1 pc.
Large carrots – 1 pc.
Tomato paste – 100 g
Ground nutmeg
Sugar – 1 teaspoon
Salt (as needed)
Ground red and black pepper
Capers – 1 tbsp
Lemon
Olives
Greens
Vegetable oil
Directions
To prepare a hodgepodge, we need a 4-liter cauldron and a deep frying pan.
The kidneys need to be prepared in advance. I usually soak them for a day. I pour cold water into a bowl, lower the kidneys there, put them in the refrigerator and constantly change the water throughout the day. Then a specific smell disappears, which many do not like.
Cut the buds into small strips, fry in a pan, in vegetable oil, until the liquid evaporates and are brownish-golden.

Finely chop the onion, fry in a cauldron until transparent and light golden brown.

Grate carrots or chop in a chopper. Add to the onion and fry, stirring occasionally, until the carrots are soft.
Cut the meat (for me – smoked sausages, beef ham, boiled-smoked, beef ham) cut into thin strips.
Add meat to kidneys. Stir and fry over low heat, stirring occasionally, for 10 minutes.
Add cucumbers, cut into small strips, to onions and carrots. Mix well and fry over medium heat for about four minutes, stirring occasionally.
This is how we get it – cucumbers, carrots and onions – stew in a cauldron, meat and kidneys – in a frying pan.
Further. Put the tomato into the vegetables and fry, stirring vigorously, for three to four minutes. Then add there – nutmeg (ground), sugar, capers.
The meat is also ready for us.
Now we connect everything. Add meat to the cauldron with vegetables, add two liters of boiling water, mix well, add about half a glass of pickle from olives, black, red pepper, a couple of bay leaves, taste with salt, if necessary, add salt.
Cut the lemon in half, squeeze the juice from one half into the hodgepodge and put the peel in the pan.
Bring to a boil, reduce heat, cover and simmer the hodgepodge (so that it gurgles a little) for about 10 minutes.
Remove the pan from the heat and let the salt water stand for about twenty minutes.
Finely chop the herbs, cut the lemon into thin slices, put on a small plate, add the olives to it. This is so that each eater puts into his plate what he likes and how much he wants. You can also put sour cream on the table, many people like to add a spoonful of sour cream to a plate with a hodgepodge.
Enjoy your meal!
Also Like
Comments for "Meat Solyanka (with Kidneys)"