Solyanka with Smoked Meats and Rice
by Editorial Staff
Rice is an unusual ingredient for hodgepodge, but it adds satiety and originality. Be sure to try making a hodgepodge with smoked meats and rice according to this recipe!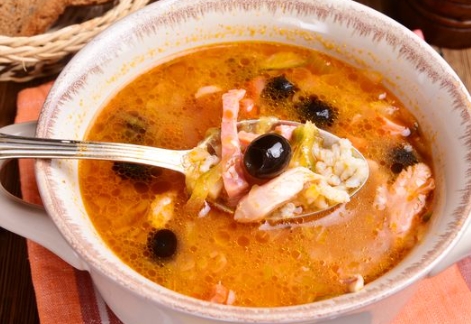 Cook: 1 hour
Servings: 8
Ingredients
Chicken leg (smoked) – 400 g
Ham – 150 g
Hunting sausages – 150 g
Rice – 50 g
Pickled cucumbers – 150 g
Tomato paste – 70 g
Olives – 70 g
Onions – 100 g
Salt to taste
Ground black pepper – 1 pinch
Vegetable oil – 30 ml
Water – 2 l
Directions
Prepare all the food you need.

Cut the smoked chicken meat from the bone.

Send the bones to a saucepan, cover with cold water and bring to a boil. Boil the broth over low heat for 20 minutes.
Peel the onion and chop finely. Heat vegetable oil in a frying pan and fry the onion for 3 minutes.
Grate cucumbers on a coarse grater.
Cut the ham into thin strips.
Add ham and cucumbers to the skillet with onions. Stir occasionally and fry for 5 minutes.
Add tomato paste and fry for another 5 minutes over low heat.
Cut the hunting sausages into slices and add to the pan. Fry over low heat for another 5 minutes.
Pour rice into a saucepan with broth and cook for 10 minutes.
Cut the chicken into strips.
Put the fried ham with sausages and pickles and chopped smoked chicken in a saucepan. Add salt and black pepper. Cook for another 5 minutes.
Add olives to tomato soup with smoked meats and rice and cook for another 10 minutes.

Pour the hodgepodge into plates, add sour cream and lemon if desired and serve.
Enjoy your meal!
Also Like
Comments for "Solyanka with Smoked Meats and Rice"