Meat Solyanka with Mushrooms
by Editorial Staff
Just after the holidays, when there are still meat products, but no one wants them anymore, it's time to cook the hodgepodge.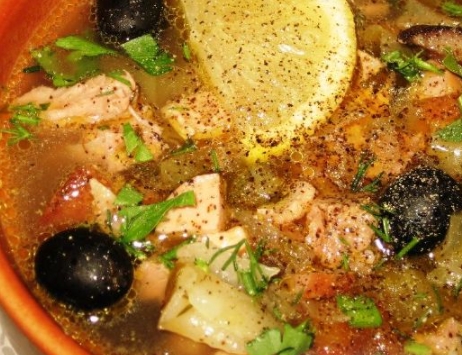 Ingredients
Beef or veal – up to 500 g
Ham or ham sausage – 150 g
Sausages – 100 g
Chicken meat – 150 g
Fat (margarine, butter) – 50 g
Fresh cabbage – 200-250 g
Tomatoes – 1-2 pcs. (200 g)
Pickled cucumbers – 2-3 pcs.
Cucumber pickle – 0.5-1 glass
Olives – 12-15 pcs.
Salted mushrooms (milk mushrooms or mushrooms) – 1 cup cut into strips
Capers – 1 tbsp
Bulb onions – 1 pc.
Butter – 30 g
Parsley and dill – several sprigs
Green onion – 2 stalks
Black peppercorns – 8 pcs.
Allspice peas – 3 pcs.
Bay leaf – 2 pcs.
Salt
Ground black pepper
Lemon – half
Directions
Cut off 1/3 of the meat. We will fry this part. From the rest of the meat (it is possible with a bone) and 1.5 liters of water, cook the broth until the meat is tender.
Cook chicken broth separately. It is enough to take a small chicken leg or thigh. Pour 1 liter of water and cook until the chicken is tender. Divide the spices between the broths. When the meat in the broth is ready, take it out, and salt the broth.

Cut the remaining meat into small pieces and fry in fat until golden brown. Add to broth.

Cut cabbage into small squares, mushrooms – into strips, tomatoes – into cubes. Add to broth and cook for 15 minutes.
Fry finely chopped onion in butter. add thinly sliced ​​cucumbers and a ladle of broth and simmer over medium heat for 10-15 minutes. Add to the pan.
Cut meat, ham, chicken, sausages into small cubes. We throw it into the pan. Cook for 3-5 minutes. Add cucumber pickle and salt to taste.
At the very end, put olives and capers in a hodgepodge of meat with mushrooms.
Bring to a boil and turn off the heat.
Meat solyanka with mushrooms should be thick enough.
Sprinkle the meat hodgepodge with mushrooms with herbs and freshly ground pepper. Put a slice of lemon on a plate. If desired, sour cream can be added to the meat hodgepodge with mushrooms.
Enjoy your meal!
Also Like
Comments for "Meat Solyanka with Mushrooms"