Meat Solyanka
by Editorial Staff
Very tasty, satisfying, just a divine hodgepodge! Make your loved ones happy!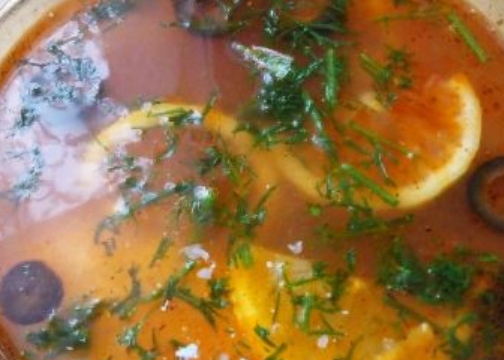 Ingredients
Cooked sausage, smoked – to taste
Meat (poultry, pork), ready-made – to taste
Potatoes (medium) – 3 pcs.
Bulb onions – 1 pc.
Carrots – 1 pc.
Pickled or pickled cucumbers – 3-4 pcs.
Tomato paste – 1 tbsp
Garlic
Olives
Lemon
Pepper
Salt
Sunflower or olive oil (for frying)
Greens (for serving)
Sour cream (for serving)
Directions
Peel the potatoes, cut them into small pieces, fill them with water in a saucepan and cook until tender.

Cut the meat component of the hodgepodge (sausage and meat) and fry in oil. The amount of meat products – to taste, depending on the size of the pan.

We pass peeled and chopped vegetables – onions, carrots and cucumbers (the amount of vegetables also depends on the volume of the pan). Add tomato paste, salt and pepper to the vegetables.
Slice olives and lemon.
When the potatoes are ready, add all the ingredients to the pan except the lemon and olives.
Cook the meat hodgepodge with potatoes for about 5-7 minutes over low heat. Add salt and pepper if desired.
At the end, add lemon and olives to the hodgepodge. Cook the soup for another 2-3 minutes. Turn off, close the pan with a lid and let the meat hodgepodge brew for 10 minutes.

We serve meat hodgepodge with sour cream and herbs!
Enjoy your meal!
Also Like
Comments for "Meat Solyanka"