Assorted Meat Solyanka (Liquid)
by Editorial Staff
Solyanka can be prepared both from poultry and game and from offal (tongue, beef heart, beef kidney or udder).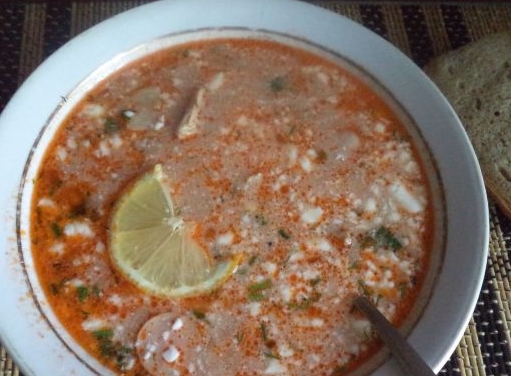 Ingredients
Bones – 500 g
Meat – 200 g
Water – 2 l
Boiled ham – 100 g
or ham with skin – 100 g
Sausages – 70 g
Kidneys – 120 g
Onions – 200 g
Pickled cucumbers – 100 g
Capers (optional) – 180 g
Olives – 80 g
Tomato puree – 80 g
Butter – 50 g
Sour cream – 100 g
Greens – 0.5 bunch (to taste)
Spices (bay leaf, peppercorns) – 3-4 pcs. (taste)
Salt – 1 tbsp (to taste)
Directions
Products according to the recipe for liquid meat solyanka.

Wash the meat. Boil the broth. To do this, place meat and bones in a saucepan, pour cold water, bring to a boil. Simmer on low heat, covered, until the meat is tender (about 60-90 minutes).

Peel the onion, wash, cut into strips.
Cut the pickled cucumbers into cubes. If the cucumbers are large and rough, then you need to peel them and remove the seeds. Cut the peeled cucumbers into rhombuses.
Melt butter in a frying pan, add prepared onion. Fry the onions over medium heat, stirring occasionally, for about 2 minutes.
Add tomato puree. Spread everything together for 1-2 minutes.
Pour hot transparent broth made from bones and meat into a saucepan. Boil.
Then add the onion cut into strips, sautéed with tomato puree.
As well as prepared pickles and cook for 4-5 minutes over low heat.
Chop the meat.
Chop the ham and sausages.
Cut the kidneys into cubes.
Then add salt, peppercorns, bay leaves, pre-cooked meat products, capers (optional). You can add some pitted olives.
Cook the soup for another 4-5 minutes. Mixed meat solyanka (liquid) is ready.
Wash greens, chop finely.

When serving, put the remaining olives, sour cream, peeled lemon in a liquid hodgepodge, and sprinkle with herbs.
Enjoy your meal!
Also Like
Comments for "Assorted Meat Solyanka (Liquid)"